Louisiana Tech to celebrate distinguished alumni at Alumni Awards Luncheon
Some of the best and brightest to ever earn a diploma from Louisiana Tech University will be celebrated as part of Homecoming 2014 during the annual Alumni Awards Luncheon at 12:00 p.m., October 31 in the Louisiana Tech Student Center. Bill Cox, a 1959 geology graduate, is being recognized as the 2014 Alumnus of the Year and Jamie Adams, a 2004 computer information systems graduate, will be named the 2014 Young Alumnus of the Year. In addition to Cox and Adams, five other Louisiana Tech graduates will be designated Distinguished Alumni in their respective colleges.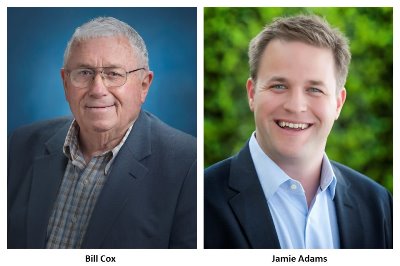 Tickets for the luncheon are $25 per person or $200 for a reserved table of eight. Reserved parking will be available in the Ropp Center parking lot or on Adams Boulevard at West Arizona Street. Tickets can be purchased by calling the Louisiana Tech Marbury Alumni Center at (318) 255-7950 or visiting www.latechalumni.org/2014alumniawards. Cox retired as Louisiana Tech's director of athletic promotions and director of athletic facilities in 1996 after working in the Athletics Department for 12 years. He also worked for Cedar Creek School in Ruston from 1996-2007 and was the owner of Cox's Shell Service Station in Ruston from 1960-84. His 22 awards and recognitions for service to Louisiana Tech, Cedar Creek and the Ruston community include being the recipient of the Robert E. Russ Awards in 2001 and the Bill Best Humanitarian Awards in 2007 – two of Lincoln Parish's highest distinctions. The city of Ruston honored him with a "Bill Cox Day" in 1996, which included a proclamation by then-Louisiana Governor Mike Foster and the Louisiana State Senate Award for dedicated service to the community, university and state. Cox, a member of the Rotary Club of Ruston since 1984 and a deacon at Temple Baptist Church, includes the Louisiana Tech University "Top Dog" Award among his many other honors. Adams is senior vice president of sales at Scorpion Design, LLC and is also co-founder of RollKoll Technologies. After beginning his career as a senior consultant at Deloitte & Touche, Adams became director of the ReachLocal Auto Division as well as vice president of sales within the Home Services Vertical Division and vice president of the Strategic Partnerships Division. In January of 2014, Adams co-founded RollKoll Technologies, a company dedicated to bringing efficiency and transparency to the off-duty security industry, making it easier for agencies to connect with police officers looking for off-duty work and then providing oversight. Then in March of 2014, Adams took on the additional role of senior vice president of Scorpion Design, LCC, an Internet marketing company designed to help professionals in a wide range of professions. Mildred McGehee is the College of Applied and Natural Sciences Distinguished Alumnae for 2014. A 1945 graduate in home economics, McGehee was inducted into Louisiana Tech's Hall of Distinguished Alumni in 2013. She is the former director of both the College of Home Economics Foundation and the Louisiana Tech University Foundation and helped establish several endowments in support of human ecology, early childhood education, entrepreneurship and agricultural science. McGehee, along with her husband Lucius, was also the recipient of the 1997 Robert E. Russ Awards. The College of Business will recognize Kyle McDonald, a 1981 finance graduate, as its 2014 Distinguished Alumnus honoree. McDonald, who earned a Juris Doctorate from the LSU Law Center in 1984 and is an ABA National Trust School graduate, serves as chief executive officer for Argent Financial Group and is a past vice president and trust officer at Ruston State Bank. He practiced law with Taylor, Porter, Brooks, & Phillips in Baton Rouge in 1984 and 1985 before joining Ruston State Bank in 1985. McDonald has also served as chairman of the Board of Trustees of Northern Louisiana Medical Center, the North Louisiana Economic Partnership and the Ruston-Lincoln Chamber of Commerce among other community activities. He is a member of the Louisiana committee of 100 for Economic Development and The Bridge Community Church of Ruston. Dr. Jerry Andrews, a 1962 and 1965 graduate, has been named the College of Education's Distinguished Alumnus for 2014. Andrews, Dean Emeritus of the College of Education, served as a professor for and dean for 16 years and was also a member of Louisiana Tech's Athletics Council from 1982-98. In addition, Andrews served as an associate professor and interim department head of the Department of Curriculum and Instruction, assistant dean and coordinator of Louisiana Tech's Off-Campus Programs, and assistant to the dean and director of Financial Placement for the LSU College of Education. The College of Engineering and Science will recognize Ernest Green, a 1981 electrical engineering technology graduate, as its 2014 Distinguished Alumnus. Green has spent the majority of his 33-year career with specialty chemical manufacturer ANGUS Chemical Company, a wholly owned subsidiary of The Dow Chemical Company. He began with ANGUS in 1986 and has progressed through various roles including electrical and instrumentation maintenance, electrical and instrumentation engineering, site maintenance leader and production leader, leading to his current position as site leader in Sterlington. Green is currently active in professional organizations and community affairs including serving on the Louisiana Chemical Industry Alliance Board of Directors, United Way of Northeast Louisiana Board of Directors, Louisiana Purchase Council of the Boy Scouts of America Board of Directors, Process Technology Advisory Board for Louisiana Delta Community College, Louisiana Community and Technical College System Foundation Board and the Louisiana Tech College of Engineering Foundation Board. Scott Hutchinson, a 1987 and 1989 graduate, is the College of Liberal Arts' 2014 Alumnus of the Year. Hutcheson serves as the senior advisor for Cultural Economy to New Orleans Mayor Mitch Landrieu. In that capacity he works closely with the mayor and the deputy mayors to develop policy that creates infrastructure for a strong and vibrant cultural economy. Under Hutcheson's leadership, the first Cultural Economy Snapshot, a report on the impact of culture on the New Orleans economy, was developed and is now published annually. Hutcheson was also the founding executive director of The Louisiana Cultural Economy Foundation creating a $2 million fund of private dollars granted to support the relief and recovery efforts of cultural organizations, artists, and cultural businesses affected by Hurricanes Katrina and Rita.
Written by T. Scott Boatright – boat@latech.edu