TOP DAWG Idea Pitch to showcase student innovation
Louisiana Tech University students from a variety of majors are preparing to pitch their creative and innovative product or service ideas at the TOP DAWG Idea Pitch competition on October 27.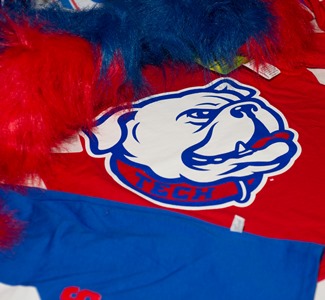 Hosted by Louisiana Tech's Center for Entrepreneurship and Information Technology (CEnIT) and Bulldog Entrepreneurs, 18 teams of students will showcase their ideas from 5:30 p.m. to 7:30 p.m. in University Hall on the Louisiana Tech campus. Each team will give five-minute pitches to see what professional judges think about their concepts. The event is free and the public is invited to attend. The student body and attendees can visit each team's booth at any time during the event to vote for their favorite ideas using "Bulldog Bucks." The team with the highest number of Bulldog Bucks wins a $300 prize. The TOP DAWG Idea Pitch teams will be invited to compete in the TOP DAWG New Venture Championship held next spring. This event offers Idea Pitch participants a chance to win cash and six months of office space in Louisiana Tech's Enterprise Center to help them move one step closer to making their ideas a reality. Teams are mentored by business professionals from throughout the area with CEnIT sponsoring seminars to prepare teams as they develop their business ideas in the months before the New Venture Championship. The TOP DAWG Idea Pitch and New Venture Championship competitions, established in 2002, are organized by Bulldog Entrepreneurs – a student organization that empowers entrepreneurs and promotes innovation on the Louisiana Tech campus. Bulldog Entrepreneurs encourages students to build innovative, creative products and services that create value in the marketplace. The New Venture Championship also showcases intellectual properties developed by Louisiana Tech researchers and students. Participants promote new technologies as well as create non-technology based ventures. For more information about the TOP DAWG events, contact Debbie Inman in Louisiana Tech's College of Business at debinman@latech.edu.