College of Business to host annual Banker's Day
Local and regional banking executives will share their expertise on a variety of topics during the 12th annual William D. Tindol Banker's Day on Friday, October 28 in Louisiana Tech University's College of Business.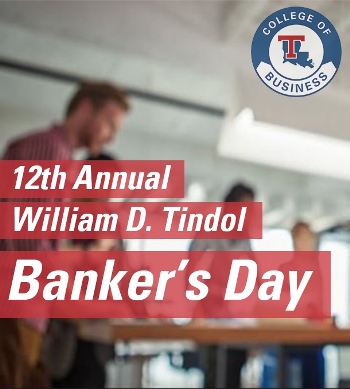 "We are honored to have professional leaders in the world of banking and finance come to campus and participate in Bankers Day," said Dr. Chris Martin, dean of Louisiana Tech's College of Business. "I strongly encourage your attendance at the afternoon presentation by economists from the Dallas Federal Reserve Bank, as this always proves to be highly informative for our students, faculty, and external stakeholders." Among the executives scheduled to speak are Bill Hogan, president of Bank of Ruston; Harold Turner, chief corporate development officer of Red River Bank; Ryan Kilpatrick of Origin Bank and several Louisiana Tech alumni including Greg Lott, David Darland, Stan Elkins, Nick Oliver, and Jeff Parker. The morning guest lectures will be followed by a presentation by Princeton Williams and Thomas Siems from the Federal Reserve Bank in Dallas. "Our annual Bankers Day activities provide a unique experience for our students as we host leaders in the banking industry from around the state in our classrooms," said Dr. Otis Gilley, head of the department of economics and finance. "This personal contact always excites and enlightens our students." The afternoon presentation is open to the public and will take place at 1:30 p.m. in the Davis Auditorium (COBB 101) in the College of Business Building. Banker's Day is made possible through the generosity of the Tindol family. College of Business officials said this support of Banker's Day allows the memory of William D. Tindol to continue to impact the future of banking by educating the next generation of banking executives.  Through market-driven academic programs and impactful scholarship and teaching, the College of Business at Louisiana Tech produces business and academic leaders who are innovative, entrepreneurial, analytical, and technologically skilled for a competitive global marketplace. For more information about Banker's Day at Louisiana Tech's College of Business, contact Mary Susan Britt at marysusan@latechalumni.org or (318) 257-3741.  Visit
www.business.latech.edu
or connect with the College of Business on Facebook (www.facebook.com/LATechBusiness), Twitter (@LATechBUSN) and Instagram (@LATechBusiness).
Written by Mary Susan Britt – marysusan@latech.edu