Graduate spotlight: Cassie Shoesmith
Editor's note: This is the third in a series on Louisiana Tech University Spring 2018 graduates. Commencement is Saturday, May 19, in the Thomas Assembly Center. The College of Applied and Natural Sciences, College of Business, and College of Engineering and Science commencement will begin at 10 a.m.; the College of Education and College of Liberal Arts commencement will begin at 5 p.m.
Cassie Shoesmith: College of Business
Age: 20
Hometown: Hallsville High; Hallsville, Texas
Degree: Supply chain management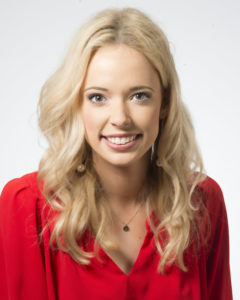 It's been an eventful Louisiana Tech student career for Cassie Shoesmith:
On the Regal Blues from 2015-2017;
Helped create the Supply Chain Club at the University;
Was a Gamma Chi for PanHellenic this year;
Kappa Delta Sorority member, former Student Enrichment Team Leader as a sophomore, Step Show coach in the fall, and Songfest coach of the first-place entry for Songfest for Greek Week this spring; and,
A member of the National Honor Society of Leadership and Success, and a member of the Institute for Supply Management.
"I decided to graduate in three years," she said, "so I can get a kick-start on my career." She's made the time count. She'll move back to her home state now and become an area manager in an Amazon fulfillment center in Dallas. "This career path fit me because I am really passionate about making things better," Shoesmith said. "With supply chain management, you are always trying to figure out the most efficient way to do things: whether it be cutting costs, shortening project time, or utilizing your space the most efficient way, your work is directly affecting the supply chain and the business as a whole. "I wanted to be in a major I enjoyed but also in one that challenged me," she said. "I knew I belonged in business because I am very outgoing and really enjoy all aspects of business. I chose supply chain management specifically because it gives me the opportunity to think logically and truly make an impact on a business." She will miss Ruston and the University; each sort of sneaked up on her. "My parents had heard about how great Louisiana Tech was and how well the University worked with out-of-state students," she said. "I had my heart set on a bigger school, but when I toured Tech I absolutely fell in love." She'll be back in the fall to visit KD friends — "Nothing is better than an organization that gets you involved and creates unique friendships," she said — plus to watch her Regal Blue buddies perform and to "watch the 'Dogs win some football games." "My favorite memories on Regal Blues are going to the bowl games," she said. "Nothing beats cheering Tech football on to a victory of a bowl game."