College of Business earns accounting reaccreditation from AACSB International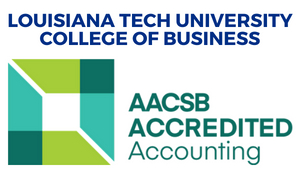 The Louisiana Tech University College of Business' School of Accountancy has earned extended accounting accreditation by the Association to Advance Collegiate Schools of Business (AACSB) International.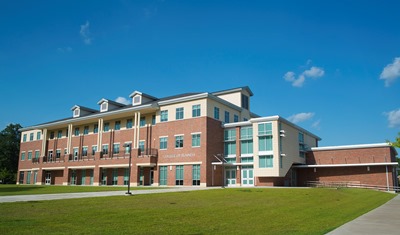 "AACSB accreditation is the highest standard of achievement for business schools worldwide and the hallmark of excellence in business education," said Dean of the College of Business Dr. Chris Martin. "The reaffirmation of our supplemental AACSB accreditation further verifies the exceptional level of teaching, research, and student learning in the School of Accountancy's undergraduate and graduate degree programs. I'm very proud of Dr. Andrea Drake and her team for their tireless efforts on behalf of our students."
To achieve accounting accreditation, an institution must first earn AACSB business accreditation. Then, in addition to developing and implementing a mission-driven plan to satisfy the business accreditation quality standards, accounting accreditation requires the satisfaction of a supplemental set of standards specific to the discipline and profession of accounting.
"This reaccreditation confirms the high quality of the faculty, programs, and students in the School of Accountancy," said Dr. Andrea Drake, head of the School of Accountancy. "We take great pride in providing students with innovative courses, conducting research with high impact, and actively engaging with the accounting profession along the I-20 corridor."
According to AACSB, only 187 institutions — fewer than two percent overall — maintain a supplemental AACSB Accreditation for their accounting programs. Once accreditation is achieved, each institution participates in a five-year continuous improvement peer-review to maintain high quality and extend its accreditation.
"It takes a great deal of time and effort to ensure the School meets the strict standards set by the AACSB. However, it's worth it to ensure we have world-class programs," Drake said. "I'm very grateful for the help and support of the faculty, staff, and students of both the College of Business and the School of Accountancy. Without their hard work, we would not have achieved this goal."
Offering a four-year accounting program for a Bachelor of Science degree and a fully integrated five-year accounting program for the Master of Accountancy (MAcc) degree, the School of Accountancy at Louisiana Tech is one of the oldest and most respected accounting programs in Louisiana. The School holds one of the first accounting-accredited programs in the United States and the very first in Louisiana.
Notably, 100 percent of 2016-2017 accounting undergraduates and MAcc graduates were placed in a job or advanced degree program within six months of graduation.