Business student receives prestigious PCAOB scholarship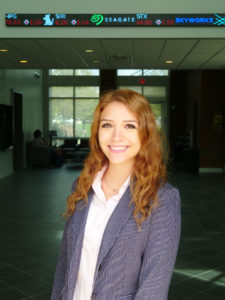 Bailey Martinez, a master of accountancy student in Louisiana Tech University's College of Business, was recently awarded a $10,000 scholarship by the Public Company Accounting Oversight Board (PCAOB) intended to encourage outstanding accounting students to pursue careers in audit.
"It is truly an honor to have been nominated for the PCAOB scholarship," said Martinez. "I am so grateful to receive this nationally recognized award. I look forward to utilizing the scholarship to further my education at the best university—Louisiana Tech."
The scholarship is awarded to one student at 332 colleges and universities who is excellent in his or her accounting degree program and has been nominated by a professor or by the school. Martinez was nominated by KPMG Endowed Professor David Herda, Ph.D.
"I was asked to nominate one student for this scholarship. When I read the eligibility criteria, it was as if they were describing Bailey," said Dr. Herda. "Bailey is an outstanding student and person and is truly deserving of this award."
Originally from Austin, Texas, Martinez graduated from Louisiana Tech in August 2018 with a bachelor's degree in accounting and is currently pursuing her master of accountancy degree. During her time as an undergraduate, Martinez served as president of Beta Alpha Psi, and completed an audit internship in Dallas, Texas, with Deloitte. Martinez has accepted a full-time position as auditor with Deloitte and will join their Dallas office upon graduation.
"The professors in the College of Business are always willing to help, encourage, and push me to reach my highest potential," said Martinez. "I would not be where I am today without them."
For more information about the PCAOB scholarship, visit pcaobus.org.