What do Wall Street, CrossFit and Vikings have in common? If you guessed Dr. Bill McCumber, you would be correct.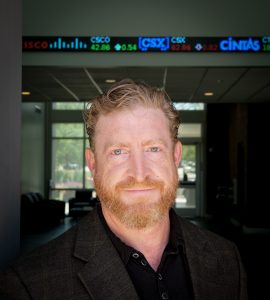 The JPJ Investments Endowed Professor of Finance and assistant professor joined the Louisiana Tech University faculty in 2013, and, over the past five years, has designed, developed, and implemented the College of Business' Student Managed Investment Fund (SMIF)—the framework for the growth of applied investing education and experiential learning within the College. Undergraduate finance students in McCumber's class made the initial $200,000 investment this past spring.
"The SMIF is an opportunity that few people—even in the real world—would ever experience. It bridges the gap between 'theory' and 'practice,' allowing students to build and articulate demonstrable, professional, real-world experience. In other words, they get enviable 'first' jobs because they already have this job," said McCumber. "They also, importantly, emerge from real money management with an appreciation for and understanding of how empiricists view the world. They are critical thinkers who know that ultimately, you need to make a decision—an educated one—and be held accountable for that decision."
McCumber considers the course one of his favorites to teach, though he's quick to point out that it's not, by design, a traditional class. "If a typical classroom experience is PowerPoint slides, a textbook, and tests, this is the other end of the spectrum," McCumber said. "This is experience with professional, real-time data, and tools, making analyses and decisions that have immediate and long-term, real-world consequences measured in real dollars."
Outside the classroom, McCumber focuses his research on financial networks — how firms, people, and finance are all connected. The former wealth manager uses a supercomputer built for this research to investigate, for example, how and why a hedge fund failure on Wall Street causes a global panic and losses of jobs on Main Street.
"Finance research involving networks is in its infancy," McCumber explained. "I'm borrowing methodology from physics, bioinformatics, neuroscience, mathematics, and computer science, and mixing these together (via complex coding on the LONI supercomputers) with economics and finance to visualize these and test numerous hypotheses that are important not only to central bankers, but to mom and pop."
He also owns Ruston's Catahoula CrossFit along with a group of friends he met through the high-intensity fitness program that has swept the nation. He is a competitive CrossFit athlete, Certified Level 1 Trainer, and USAW Sports Performance Coach.
McCumber is consistently recognized for inspiring students in the classroom, and, through his work as a CrossFit coach, athletes in the gym. He builds relationship, so it's no wonder that intertwines with his research.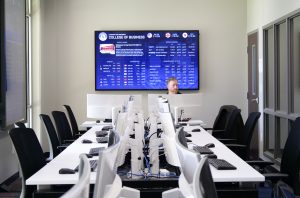 "Networks are everywhere. Relationships between people, companies, banks, etc. are important on a micro level, that is, to the individuals involved, but also to the entire network," said McCumber. "All relationships between all actors, when aggregated, become the network. Relationships change. So networks change, too, over time. Networks are good…and bad. Good in that networks help us find and process information (as in: hey friends, do you have a recommendation for a contractor? What is the best school for my child? Whom do you trust to be your realtor?); bad in that they can enable criminal activity, protect bad players, (think black markets and the mob), and can bring about systemic collapse when there's a significant shock (financial crisis)."
His work is to define what those complex, inter-temporal financial networks and relationships mean for us.
Oh, and the whole Viking thing? Like any good Norseman, he makes mead—the drink of the gods.
Interested in our Finance program?