Taylor McCoy, '18, chose finance on whim. That quick decision made during Orientation before starting her freshman year set in motion a string of chance encounters leading to her position at a Fortune 500 company today.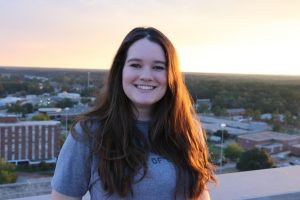 "I was a little nervous about my choice at first because I wasn't sure what to expect, and I wouldn't take any finance courses until my junior year," explained McCoy. "But, I got into that first very finance class and immediately knew I made the right choice."
To McCoy, finance was "fun math," and she loved the idea of using math to help people and companies. She was able to hone her financial skills in Ray's Financial Trading Room—an experience she noted was not a class, but a job. McCoy was part of the first cohort to utilize the Trading Room's advanced technology to plan the initial investment from the Student Managed Investment Fund (SMIF).
It was during this class that she met fellow College of Business alum Randy Fowler, '78, MBA '91, who provided the initial seed capital for the SMIF. Fowler was back on campus to celebrate the ribbon cutting of the College's new wing and stopped by the Trading Room to check on the SMIF's progress.
"Dr. Bill McCumber encouraged me to introduce myself to Mr. Fowler while he was touring the Trading Room," recalled McCoy. "He mentioned that he was president of Enterprise Products, and when I told him I had just interviewed with the company a few weeks before at the College of Business Employer Reception, he took out a notepad and wrote down my contact information."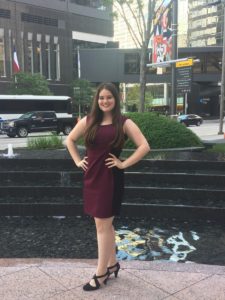 A week later, Enterprise Products flew McCoy to Houston for an interview at their headquarters.
"I was truly blown away, and it was all because of that one handshake — because my professor pushed me to go do that. Mr. Fowler is so supportive of Tech and provides amazing opportunities for graduates because he knows we are prepared for the real world."
Today, McCoy serves as an analyst of liquids volume control at Enterprise Products, one of the largest publicly-traded energy partnerships, where she works to balance accounts and reconcile inventories, checks contracts, and schedules movements for distribution — work she was well prepared to take on.
"It's one thing to learn something in a classroom, it's another to actually do it," said McCoy. "Louisiana Tech is really great at teaching through real-life examples, not just by giving you equations and stuff written on a board. The professors build you up in a way that you're ready to go talk to someone, you're ready to go meet this important person, you're ready to put yourself out there — just as I did with Mr. Fowler."
Interested in our Finance program?