Bradley joins College of Business as 2018-2019 Executive in Residence
Bill Bradley, retired senior vice president of cyber engineering and technology services at CenturyLink, has been named the first Executive in Residence at Louisiana Tech University's College of Business.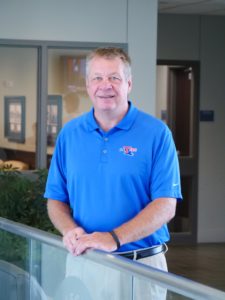 "We are honored that Bill has accepted this prestigious new post within the College of Business," said Dr. Chris Martin, dean of the College of Business. "Bill brings a wealth of corporate experience that will impact our faculty and students and serve as an important link between the classroom and the boardroom."
Executives in Residence agree to cultivate a long-term relationship with students and faculty, sharing their expertise and insider perspective with students in the classroom, on research projects, and through out-of-class lectures, workshops, and mentoring opportunities. Each year, the College of Business hosts hundreds of business practitioners, but Executives in Residence retain a uniquely deep long-term relationship with the College.
"I have a learned a lot in my career about both technology and leadership. I hope to leverage that in a way that benefits Louisiana Tech's students and faculty," said Bradley. "Over the years, I have benefited greatly from executive coaching to develop my leadership skills. I hope to help the students and faculty in the same way I have been helped—overcoming obstacles, thinking from different perspectives, problem solving and coaching."
Bradley has 33 years of experience in cyber security and information technology with roles ranging from software developer to chief technology officer and chief information officer at CenturyLink. Under his leadership, the company's global workforce ensured CenturyLink was protected and its cyber technology services customers received support from a trusted partner.
During his tenure as chief technology officer and chief information officer, Bradley's leadership was fundamental in CenturyTel's acquisition of Embarq in 2009 to create CenturyLink, successfully integrating hundreds of applications, converting millions of customers to a single consumer billing system, and tripling the scale of the IT organization. He also contributed to CenturyLink's acquisition of Qwest in 2011, doubling the scale of the IT organization to support millions of customers and more than 40,000 employees. Bradley's focus on creating a "one company" mindset following these acquisitions, helped set the foundation for the technological and cultural transformation at CenturyLink.
He is the recipient of the 2015 Global CIO Breakaway Leadership Award, a recognition utilizing peer nominations, a distinguished panel of judges, and the CIO Executive Summit community to select leaders changing the face of information technology. He has served as a keynote speaker at national and global conferences, and has published articles in notable publications including Forbes.
Bradley received his bachelor's degree from Louisiana Tech University in 1985.