Doctoral students receive awards in teaching and research
Louisiana Tech University's College of Business recently recognized two Doctor of Business Administration (DBA) candidates at the annual Doctoral Student Orientation Reception. Dr. Shuang Wu was presented with the DBA Outstanding Teaching Award and Saleh Bajaba was presented with the DBA Outstanding Research Award.
"We are very proud of our DBA Research and Teaching Award recipients. Two of the major goals of our Doctor of Business Administration program are to develop scholars who are both outstanding researchers and excellent teachers in the classroom," said Dr. Doug Amyx, associate dean of graduate studies and research programs. "Our program prepares students for successful careers as teaching and researching professors."
DBA Outstanding Teaching Award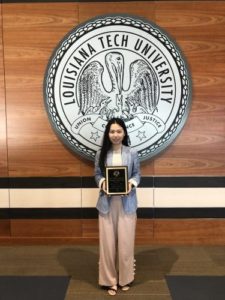 The DBA teaching award is presented to the DBA candidate with the highest average on teaching evaluations. Dr. Shuang Wu is the 2018 recipient of the award.
Wu completed her bachelor's degree at the University of Shanghai for Science and Technology and her MBA from Louisiana Tech. In Aug. 2018, she completed her doctorate in business administration, and serves as an instructor at Louisiana State University of Alexandria. Wu's dissertation studied influential nonverbal communication on customers' perceptions of frontline employees in the corresponding firms and brands.
"I am honored to receive this award, and would not be in this position without all the support and help from the faculty and my fellow doctoral students," said Wu. "The DBA program provides a well-developed and supportive curriculum to prepare us as professors. I learned so much about teaching from communicating with my professors. We have seminars covering topics related to teaching and professors share their experience and insights with us. We attend conferences and consortiums in both teaching and research, and these opportunities expose us to innovative and advanced teaching techniques."
She has presented her research at annual conferences of the Academy of Marketing Science and the Society of Marketing Advances. She is a member of the Academy of Marketing Science, American Marketing Association, Marketing Management Association and Society of Marketing Advances, in addition to being a fellow of the Marketing Management Association Doctoral Student Teaching Consortium and AMS Doctoral Student Consortium. Her teaching interests include digital marketing, marketing research, services marketing, and international marketing.
DBA Outstanding Research Award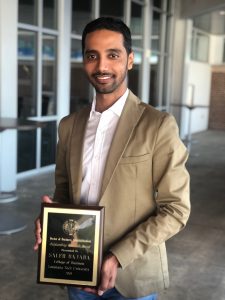 The research award is presented to the DBA student with the strongest body of work regarding published research articles and conference proceedings and/or presentations at conferences. Saleh Bajaba is the 2018 recipient of the award.
Bajaba had five journal articles published or accepted in peer-reviewed, refereed journals in business, and five conference proceedings/presentations. He hails from Jeddah, Saudi Arabia, and chose the DBA program at Tech for its focus on training students to be professional researchers and for the program's high graduate placement rate.
With a passion for understanding the psychology of people in the workplace and how to help those people reach their full potential, his primary research interests focus on proactivity and adaptivity in the workplace, leadership, organizational identification, and mindfulness. In 2017, he won his first regional award for the best doctoral paper at the Southern Management Association Conference. Bajaba plans to graduate in Spring 2019 and return home to Jeddah where he will serve as assistant professor of management at King Abdulaziz University.
"I am extremely honored to receive such a distinguished award after my third year in the program," said Bajaba. "I am earnestly grateful for the recognition I have received for my research because I am quite sure that every other student in the DBA program was as capable, if not more, of winning this award."
"I would like to make a special mention of Dr. Bryan Fuller, who has been my mentor throughout my stay here. He saw my passion and dedication for research and invested his time and energy with me. Overall, winning this award would not have been possible without the inspiration I have received from Dean Chris Martin, Dr. Doug Amyx, my professors and my colleagues, for whom I have the most profound respect, and from whom I have derived the strength to challenge myself and perform better every day."