Adams encourages graduates to seize courage from fear
Coushatta native Jamie Adams, 2004 graduate of Louisiana Tech University's program in Computer Information Systems, advised Fall 2018 graduates to seize courage from fear and find value through relationships during his commencement address Saturday.
Adams, who Tech President Dr. Les Guice called an "innovator and entrepreneur," currently serves as the Chief Revenue Officer for Scorpion Inc., a privately owned digital marketing company with more than 5,000 clients.
"We live in a world where it's easy to bury ourselves in technology," Adams said. "Look for opportunities to build relationships with others. You will benefit from it, and you will be a blessing to people."
Failures, Adams said, provide the opportunity to learn each day, and curiosity and a willingness to get to know other people are valuable traits to develop.
"Every meaningful thing that has happened to me in my life has come because of relationships," Adams said. "Be passionate about what you are doing and put in the work to be great.
"If you're scared about what happens next, that's natural, and you're not alone. Fear creates the opportunity for courage to exist."
Adams recounted his own graduation in 2004 from Louisiana Tech, where he experienced the uncertainty that all graduates have.
"I don't have it all together," he said. "I am simply a human being doing the best that I can to maximize the gifts that I believe God has given me."
The University's Young Alumnus in 2014, Adams earned his degree in computer information systems (CIS) and began his professional career with Deloitte & Touche as an enterprise risk consultant. In 2007 he joined ReachLocal, a digital marketing startup headquartered in both Los Angeles and Shreveport. Adams has spent the past 12 years delivering marketing technology and consulting services to businesses across a number of industries, including automotive, healthcare, legal, franchise, retail, and home services.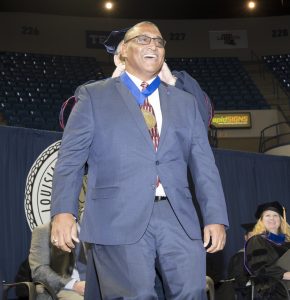 A native of Mobile, Alabama, Hilton Nicholson, a 1980 graduate in Electrical Engineering, was recognized with the Tower Medallion and inducted into the Louisiana Tech University Distinguished Hall of Alumni. Nicholson currently serves as President and CEO of CyberReef Solutions, a company he founded in November 2012 to provide security and control of data traffic over Verizon, Sprint, US Cellular, and AT&T wireless networks.
Nicholson also earned his Master of Science in Electrical Engineering from Clemson University in 1988, and a Master of Business Administration from Duke University in 1991. He completed executive studies programs at the Institute of Management Development in Lausanne, Switzerland and at the MIT Sloan School of Business in Boston.
Before starting his own company, Nicholson served as President and Chief Executive Officer of SIXNET, LLC from 2009 to 2011. Nicholson has served his alma mater on both the Louisiana Tech University Foundation Board of Directors and on the Engineering and Science Foundation Board of Directors.
Nicholson is married to Carolyn, and they are the proud parents of three children, including daughter Carmen, who graduated Saturday.
Nearly 300 students participated in Saturday's commencement exercises, which were the 326th graduation ceremony for Louisiana Tech.