Spearheading Westward Expansion
By: Teddy Allen
Note: This article originally appeared in the Fall 2018 issue of 1894 Magazine. 
If you are in Shreveport or Bossier City, Louisiana Tech is no longer an hour's drive east to Lincoln Parish.
"Visitors can see Tech and talk to Tech representatives on site," Provost Dr. Terry McConathy said. "The Tech Academic Success Center (in Bossier), combined with Tech-Barksdale and the Shreveport Center, establishes a tangible, physical footprint."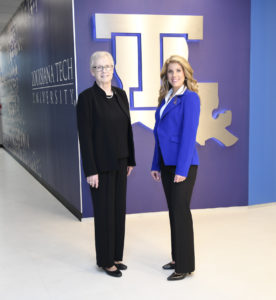 Assistant Vice President for Academic Advancement and Partnerships Dr. Donna Johnson this year began working in Shreveport/Bossier City to strengthen Tech's extension activities, programs, and partnerships.
Johnson is working to develop, coordinate, and direct multiple instructional sites, including the Tech Academic Success Center in Bossier City, the Shreveport Center, and the Tech Barksdale program, all part of what Johnson calls the University's "westward expansion."
"Every day we want to build on the momentum we have," Johnson said. "I've been fortunate to work with so many forward-thinking people who care about this region that we call home. No one is in position to make a bigger positive impact here than Tech."
Dr. Johnette Magner of Shreveport, founding Executive Director of the Shreveport-Bossier Business Alliance for Higher Education (SBBA), joined Tech as its Executive Director for External Affairs and has the opportunity to strengthen, support, and forge new relationships to enhance the University's visibility, impact, and financial resources.
As another illustration of Tech's strong commitment to Shreveport/Bossier, Michael Solice, who has been working with and for the students served through Tech Barksdale for more than 15 years, recently moved from assistant professor to Tech Barksdale Coordinator and assistant professor for the University.
"Our highest priority is to provide an unparalleled educational experience, in Ruston, Bossier, Barksdale, Shreveport, and online," McConathy said. "Our physical presence at the new Tech Bossier Center provides additional access to the best faculty in the best facilities for students who are place-bound in the Shreveport-Bossier metroplex."