Sustainable Supply Chain Management Majors Visit Nissan Plant for Real-World Application
Thirty sustainable supply chain management majors, along with Bank of Ruston Endowed Professor Dr. Tony Inman and Jack and Peggy Byrd Endowed Professor Dr. Kevin Watson, recently traveled to Canton, Miss., to tour the Nissan Vehicle Assembly Facility and Nissan's tier one supplier, Faurecia. The trip was made possible through a "Just Business" grant that supports faculty and students projects that support the College of Business' mission to connect business with technology and innovation.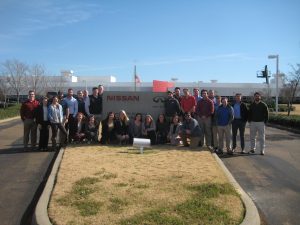 "Opportunities like this make nebulous concepts and techniques tangible," said Dr. Watson. "It provides a touchstone for future lectures. It excites the students. It creates a buzz about the major. It conveys to the students that we are teaching the processes and concepts employers want and need. It conveys to potential employers the value of our students' education."
In addition to touring each portion of the Nissan plant—from stamping to final assembly and quality assurance—the students met and interacted with Mark Sorgi, Director Canton SCM Production Control, Lester Gonzalez, Senior Manager for SCM Production Control, and Paul Nowak, Senior Manager Design Change.
"Seeing the sheer size of the Nissan facility, the number of works, the breadth of the activities necessary for production, and discussing the timeline for decision-making was enlightening," Dr. Watson said. "The opportunity to interact with the managers at the facilities had the benefit of making our students much more at ease with interviewing. Managers are no longer sitting on high, they are real people."
At Faurecia, one of the largest automotive companies globally, students were able to speak directly with company management and Nissan executives. Students also had in-depth opportunities to learn about the procedures and reporting mechanisms in use at the facility.
"These opportunities convey to the students that we are teaching the processes and concepts employers want and need," said Dr. Watson, who noted this trip allowed students to see the LEAN and quality concepts and techniques taught in class in use at two tightly linked, high volume manufacturers. "It makes students more comfortable with the environments they will be working in in the future. It makes them more confident. It helps them explore. It also conveys to potential employers the value of our students' education."
Learn More about Sustainable Supply Chain Management