Alumni Feature: Melanie Hudson
The importance of networking. Critical thinking. Problem solving. Negotiation skills. Communication. These are the skills — in addition to the textbook learning of finance, economics, and business principles — that Louisiana Tech alumna Melanie Hudson, '86, learned in her College of Business classes that have helped propel her career.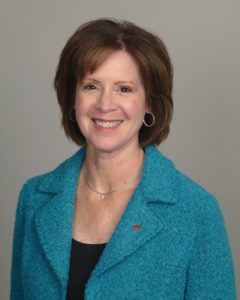 "I use all of these skills in my job of leading people, engaging with our customers and distributors, and growing the business profitably," said Hudson, who serves as Field Vice President of Business Insurance for Travelers Insurance's Mid-Atlantic region. 
Hudson oversees a seven-state region and is responsible for production and profit results, staffing, talent development, growth and distribution strategies for Travelers, a property-casualty insurance company providing products, through independent agents and brokers, to personal and business insurance customers.  
Looking back, Hudson always knew she would attend Louisiana Tech. Her parents, Jerry and Linda, graduated from the University and were very proud to be alumni. "I grew up hearing such great stories about their time at Tech," said Hudson. "We went back for many football games and I knew it was a special place. My twin sister, Melinda, and I never really considered going anywhere else."
Hudson's decision to major in marketing, though, wasn't as clear at first. "I knew I wanted to concentrate on business," she remembered. "I started in accounting, but decided I didn't want to narrow the focus of my studies or career opportunities. I thought marketing would offer the type of jobs that better matched my skill set and personality."  
One of Hudson's most memorable moments as a marketing student involved a case study on newly created companies. Her team was assigned a newcomer to the market — Apple. 
"The class was divided into teams, each studying financial statements, business models, product development, marketing,and advertising of a company and we had to predict whether we thought the company would survive," she said. "My group was assigned Apple, which was a new company at the time, one that was very innovative and progressive. We did predict that they would survive, but I sure wish I bought the stock!"
She encourages current students to take advantage of the resources provided by the College of Business — resume building, advice from counselors, trips offering experiential learning, and knowledge from faculty. She noted that her own Quantitative Analysis professor, Libby Wibker, not only shared knowledge of statistics, but also instilled in her confidence, and taught her how to be a leader and the importance of doing things the right way.  
Hudson has remained involved at both the University and College level. As a member of the Alumni Association National Board of Directors, Lagniappe Ladies, and Just Business giving circle, Hudson's involvement directly impacts students. 
"Public universities have limited funding so financial support is important so Tech can continue to provide the quality education that we had as students," said Hudson. "Giving also helps keep the facilities state of the art, the sports teams attracting the best athletes and coaches, and allows the administration to attract top professors."
"Offering your time to the University, students, and faculty is just as important," said Hudson, who encourages all graduates to immediately join the Alumni Association to stay connected to the University. "Studies have shown that giving back to a community boosts physical and mental health, provides a sense of purpose, increases self-confidence and provides a sense of accomplishment. It is a way to stay attached to values that are linked to the common good."