Student Feature: Ashley Cox
Nearly two dozen members of the Cox family have made their mark on Louisiana Tech University over the last seven decades. Now, junior marketing major Ashley Cox is making a name for herself on the campus that has been influenced by her family's legacy.
"Being from Ruston, I naturally come from long line of Louisiana Tech alumni, all expecting that I would also be taking pleasant walks among the famous Noble Trees," said Cox. "Being the youngest of three, I have always valued my individuality and wanted to set myself apart, and that did not change when deciding on where I wanted to attend college."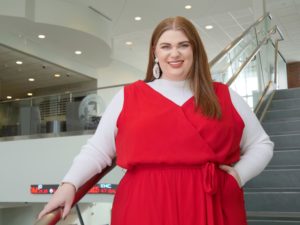 While she initially did not plan to follow in the footsteps of her grandparents, parents, siblings, aunts and uncles, she did enroll as a freshman in the fall of 2016. That decision has allowed her to find her own success on campus and beyond. 
"I remember thinking that I already knew everything Ruston had to offer, and I projected that in my feelings toward Tech," Cox recalled. "I had no idea the incredible opportunities and moments that were yet to come during my time here. Louisiana Tech—and more specifically the College of Business— has been my greatest turning point thus far. I have gained career experience, valuable memories, lifelong friendships, and outstanding opportunities I would have missed out had I chosen a different path."
The path led her to pursue a degree in marketing, but not before trying out two other majors: studio art and fashion merchandising.
"I've always had a passion for creativity and the arts, so I was testing out the majors I thought would be a good fit with my skill set," she said. "At the end of my freshman year, I was hired in the College of Business as a graphic designer and that was the first time I experienced 'COB culture.' I soon realized that the energy business brings was the missing puzzle piece to finding my perfect major."
Her position as a graphic designer also opened the door to a summer internship on Capitol Hill — an experience she considers "nothing short of extraordinary."
"My current boss in the COB had previously worked on Capitol Hill, and she encouraged me to pursue the internship, connecting me with a former colleague of hers who works for Senator Bill Cassidy," said Cox, whose internship duties included guiding constituents through the Capitol, researching legislation, attending committee hearings, and more.
"I was face-to-face with some of our country's most influential legislators, esteemed ambassadors and political personalities," she said. "I was often forced to rise to the occasion, and even when the task seemed minuscule at the time, it often held greater importance. I learned that objectives are unobtainable without initiating action, and to truly become exceptional in your work you need to pursue it with the intentions to not only succeed, but to exceed all expectations."
Now, she is working to exceed expectations in her daily work in the classroom and behind-the-scenes of the College's design and social media.
"The College of Business has impacted my life heavily, and in the best ways possible. For every moment I invest in this College, I see it invest in me twice as much," she said. "Academics can be very intimidating and at the end of the day your learning environment will make or break you."
Cox notes that Tech is, in her opinion, unprecedented in its ability to connect students and faculty, cultivating real relationships. Her own professors have made it a point to invest in her — whether she is struggling or succeeding. She recalls feeling worried in a computer information systems course, where the class culminates with the creation of an IOT prototype. It was her professor that reassured her.
"Dr. Eric Sutherland had the ability to tap into my potential," said Cox. "I remember arriving to class one day and being called up to his podium — I thought I was in trouble! He told me he noticed I had a natural ability for public speaking after our group did a sales pitch in preparation for the final project. That moment gave me a boost in confidence that would help me in our final presentation and continues to give me encouragement when speaking today."
Cox's group went on to create a cost-efficient product driven by a wide target market utilizing IOT technology. "We were extremely proud of what we created, and beyond that, Dr. Sutherland truly believed that our product could have success in a realistic market. That class embodied what education should be like in my opinion. It was hands on, collaborative, challenging, and rewarding."   
Cox has found that opportunities like this abound in the College of Business. "This College led me to my first job and internship — both giving me real-world experience, one creatively and the other competitively. It has connected me with incredible business leaders who have shared invaluable advice. Most importantly, it has instilled in me confidence to perform exceptionally in the world of business, and I am forever grateful for the experience it has provided me."