College of Business wraps up 'Inside the C-Suite' Series with Diversicare CEO
James "Jay" McKnight, Jr., president and CEO of Diversicare Healthcare Services Inc., will deliver the final installment in this year's "Inside the C-Suite" lecture series for Louisiana Tech University's College of Business at 4 p.m. Thursday, May 9, iin Davis Auditorium (College of Business 101). This free event is open to the public.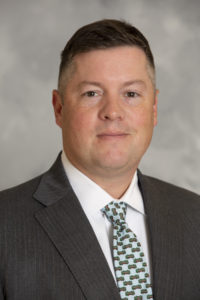 "Jay has led organizations through transformative events such as emerging from bankruptcy, equity raises, the sale of a publicly traded company, and he has been involved in over 50 acquisitions," said Dr. Chris Martin, dean of the College of Business. "I'm grateful that Jay is returning to campus to share his expertise with our students."
Diversicare, a premier provider of long-term care services, operates 72 skilled nursing centers totaling 8,214 beds in 10 states and employs over 8,000 team members. McKnight joined Diversicare in August 2012 as chief financial officer and assumed the CEO role in July 2018.
McKnight began his career in public accounting with Arthur Andersen LLP in New Orleans after graduating from Louisiana Tech University with a bachelor of science degree in accounting in 1997. Since leaving public accounting, McKnight has held financial leadership roles progressing from director to CFO and has spent the majority of his career leading publicly traded companies.
McKnight and his wife, Joanna, live in Franklin, Tennessee, with their three children.
"Inside the C-Suite" provides a forum for top corporate leaders from some of the nation's most prominent companies to share their views on topics of societal, academic, and professional importance. The series strives to stimulate insightful conversation on current issues by providing a platform for high-level executives to speak about cutting-edge issues, elaborate on trends, share wisdom, and provide important career inspiration and advice for students. Topics cover a variety of themes in core business subjects such as economic climate, ethics, corporate responsibility, leadership, globalization, strategic planning, entrepreneurship, technology, innovation, and diversity.
For more information on "Inside the C-Suite," contact Mary Susan Britt, senior director of development for the College of Business, at marysusan@latechalumni.org or 318.257.3741.