Doctoral candidate earns 2019 Distinguished Paper Award from Federation of Business Disciplines
Md. Shariful Islam, a doctoral student within the College of Business at Louisiana Tech University, recently accepted the Federation of Business Disciplines' (FBD) Distinguished Paper Award at the 2019 American Accounting Association Southwest Region/FBD meeting in Houston, Texas, March 13.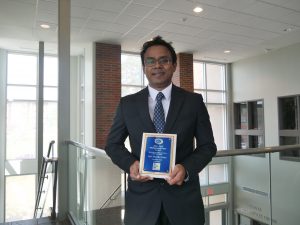 Islam co-authored the paper, "Big Data Analytics Challenges and Internal Audit Function Reliance on Big Data Analytics," with College of Business faculty Dr. Thomas Stafford, John Ed Barnes Endowed Eminent Scholar in Data Analytics, and Dr. William Stammerjohan, Harold J. Smolinski Eminent Scholar Chair.
The award acknowledges the potential contribution of the research in the field of accounting information systems and the effect that big data analytics potentially has on the underlying work nature of accountants and auditors. The award also spotlights the research's significant potential to provide guidelines for how accountants and auditors can adopt the big data analytics in their work. To be selected for the award, the paper was peer reviewed and then selected as distinguished for its potential contributions.
"I learned a lot about domain knowledge here; when I started, I did not have the knowledge about the research methodology required to conduct the research," said Islam. "Louisiana Tech equipped me with the necessary tools and techniques that are important to conduct cutting-edge research. This award is one of the greatest achievements during my doctoral studies at Louisiana Tech University."
This paper is a research manuscript that contributes to Islam's dissertation proposal, which explores the circumstances around which internal audit functions move to adopt the big data analytics in their work process and shows that there is systematic variation of the adoption of big data analytics by auditors.
Islam's current research focuses on cybersecurity assurance with an emphasis on the corporate governance structure of organizations and its relationship with cybersecurity assurance. His research also covers the role of Internal Audit Function (IAF) in conducting cybersecurity assurance in organizations. He recently published an article on cybersecurity audit—the very first work on cybersecurity assurance in the United States. Research that he has conducted on Big Data Analytics (BDA) usage by auditors in their work process has been published in conference proceedings for Americas Conference on Information Systems in both 2017 and 2018. In Fall 2018, he was selected as one of 40 fellows at the Doctoral Consortium of the International Conference for Information Systems (ICIS) sponsored by the Association for Information Systems, the leading professional association for technology management scholars.
Before beginning the Doctor of Business Administration program at Louisiana Tech, Islam earned his MBA from Eastern Illinois University. He is a licensed certified public account and has three years teaching experience at universities in Bangladesh.
For more information on Louisiana Tech University Doctor of Business Administration program, visit its website.