Dr. Mary Marshall receives award from Center for Audit Quality and American Accounting Association Auditing Section
Mary Marshall, PhD, CPA, assistant professor of accounting at Louisiana Tech University, has been selected as the recipient of one of four Access to Audit Personnel Program awards given by the Center for Audit Quality (CAQ) and the Auditing Section of the American Accounting Association (AAA).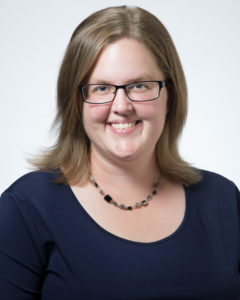 "We're proud of Mary for receiving this award and are excited for the opportunities it brings to her research," said Dr. Chris Martin, dean of the College of Business. "Her research is just one example of how College of Business faculty members are working to solve real-world business problems through impactful research."
Marshall's research, "Outcome Bias or Surrogation? Examining Audit Reviewer Evaluations of Skeptical Actions," is a collaboration with Kelli Saunders, University of Nebraska-Lincoln, and Chad M. Stefaniak, University of South Carolina. The project focuses on how the public accounting firm environment influences auditors when they are making judgments and decisions.
"Most of my projects focus on review process, specifically examining how early career accountants interact with their supervisors," said Marshall. "This has practical impact because my findings are informative to public accounting firms as they continue to improve their processes and to new accountants as they begin their careers."
The Access to Audit Personnel Program will connect Marshall and other researchers with approximately 550 auditors at CAQ Governing Board firms. Since the program's inception, the CAQ and the AAA Auditing Section have supported 26 academic projects and provided access to over 3,300 audit practitioners.
"One of the most challenging aspects of doing experimental research with public accounting professionals is recruiting participants because auditors and tax professionals are very busy providing client service," said Marshall. "This award removes that hurdle for this project, which examines a research question that is interesting to both academics and practitioners."
Marshall joined the Louisiana Tech College of Business faculty in 2018, after earning a PhD from the Darla Moore School of Business at the University of South Carolina. She also holds a Master of Public Administration from the Hugo Wall School at Wichita State University, and has experience working in accounting, primarily focused on tax compliance, and municipal budgeting.
Her research interests include judgment and decision making of public accounting professionals, corporate tax managers, and taxpayers, with particular interest in the effects of professional roles on behavior and on the impact of tax policy on individual taxpayer decisions.
"In addition to the great colleagues I see on a daily basis, I really enjoy how well my teaching and research fit together," said Marshall. "Many of our graduates start their careers in public accounting, so my research helps me stay current as I teach them about the environment they'll be working in."
About the CAQ
The Center for Audit Quality (CAQ) is an autonomous public policy organization dedicated to enhancing investor confidence and public trust in the global capital markets. The CAQ fosters high-quality performance by public company auditors; convenes and collaborates with other stakeholders to advance the discussion of critical issues that require action and intervention; and advocates policies and standards that promote public company auditors' objectivity, effectiveness, and responsiveness to dynamic market conditions. Based in Washington, DC, the CAQ is affiliated with the American Institute of CPAs. For more information, visit thecaq.org.
About the AAA
The American Accounting Association (AAA) promotes worldwide excellence in accounting education, research and practice. The Association is a voluntary organization of persons interested in accounting education and research. For more information, visit aaahq.org.