2019 MAcc grad receives FSA Student Award
Recent Master of Accountancy graduate Allison Hale was the 2019 Louisiana Tech University recipient of the Federation of Schools of Accountancy (FSA) Student Award, given annually to the outstanding MAcc student.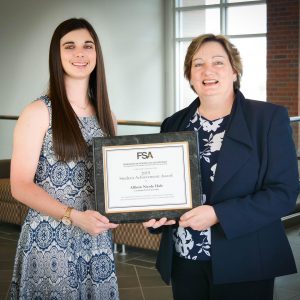 The FSA is the organization of accredited graduate programs in accounting, and its mission is to promote and support high-quality accredited graduate accounting programs in the United States and abroad. Louisiana Tech's School of Accountancy is separately accredited and is a full-fledged and active member of the FSA. Currently, there are 121 full member schools in the FSA. Additionally, several of the largest public accounting firms in the United States, several state societies of CPAs, and the American Institute of CPAs are associate members.
"When Dr. Andrea Drake notified me about being the recipient of this award, I was completely surprised and immediately felt a sense of gratefulness toward the accounting faculty because they have molded me into the professional that I am today," said Hale. "The College of Business and the School of Accountancy have challenged me in ways that I never expected and provided me with real-world experiences that will greatly benefit my career with KPMG. I will always be grateful for the time that has been invested into my future by Louisiana Tech. Ever loyal be."
Originally from West Monroe, Hale graduated as a 4.0 student in 2019 with a Master of Accountancy degree. She chose to pursue a degree in accounting because of the multitude of career paths provided by the field and the many ways that accounting knowledge can be used to assist others. During her sophomore year, she took her first tax course in which Dr. Nina Collum sparked her interest for taxation.
During her college career, she has been an active member of the Northeast Louisiana Clarinet Choir, participant of the Fair Park Baptist Church Praise Band, member of the Louisiana Society of CPAs, and served as Treasurer for Beta Alpha Psi during the 2018-2019 academic year. In August 2018, she passed one section of the CPA Exam and plans to complete the other three sections by November 2019. She interned with CenturyLink, Inc., Vantage Health Plan, Inc., and most recently, KPMG LLP, and has accepted a full-time offer from KPMG as a Tax Associate.