Accounting alumnus earns top score on CPA exam
Louisiana Tech University accounting alumnus Warren Wolf recently received the Elijah Watt Sells Award for earning one of the top CPA exam scores in the nation. Only 110 candidates — out of nearly 86,000 individuals — met the criteria to receive this prestigious award given annually by the American Institute of CPAs (AICPA).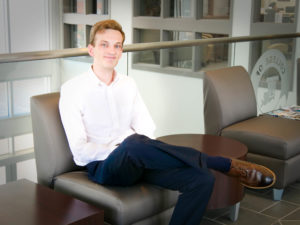 "Receiving the Elijah Watt Sells Award has been a great honor," said Wolf, who earned a bachelor's degree and master of accountancy from the College of Business in 2017. "It has been very exciting to see my hard work at Louisiana Tech and studying for the CPA exam pay off."
To qualify, CPA candidates must obtain a cumulative score above 95.5 across all four sections of the Uniform CPA Examination, pass all four sections on their first attempt, and have completed testing in 2018.
"Tech prepared me for my success by giving me a well-rounded foundation of knowledge that I could build on when studying for the CPA exam," said Wolf. "I was not just taught the core aspects of accounting, but how to think and analyze situations and concepts. Knowing how to look at information and pull out key concepts and ideas was extremely important for me when studying for and taking the CPA exam and was a significant reason why I was able to get the Elijah Watt Sells Award."
Wolf currently serves as a Louisiana Legislative Auditor, where he audits state entities to verify financial information is materially correct so it can be used in preparation of other conglomerated reports and by the Legislature to make informed decisions. His work involves identifying potential risks of misstatement, identifying and testing key controls, and performing analytical and substantive procedures to ensure account balances are materially correct.
The College of Business has seen another accounting alumnus on this list in recent years. In 2011, Timothy Smith was one of only 37 candidates to earn the Elijah Watt Sells Award.
The Elijah Watt Sells Award program was established by the AICPA in 1923 to recognize outstanding performance on the CPA Exam. Sells, one of the first CPAs in the U.S., was active in the establishment of the AICPA and played a key role advancing professional education within the profession.
"Winning the Sells Award is an extremely impressive accomplishment for any CPA candidate," said Mike Decker, AICPA vice president of examinations. "The CPA Exam is a rigorous assessment and these candidates are commended for an exceptional performance that very few individuals achieve."
For more information on the Elijah Watt Sells Award, visit aicpa.org.
For more information on the School of Accountancy or the College of Business, visit business.latech.edu.