Hon. Maury Hicks to deliver 14th annual Marbury Ethics Lecture
The Honorable S. Maurice Hicks, Jr., Chief United States District Judge for the Western District of Louisiana, will deliver "Whose Ethics? Yours, Mine, or Theirs?" as part of the 14th annual William Ardis Marbury, Jr. and Virginia Lomax Marbury Lecture Series on Tuesday, Sept. 17, at 11 a.m. in Howard Auditorium on the Louisiana Tech University campus. Sponsored by the Mr. and Mrs. Lou C. Napper Family and hosted by the College of Business and Cedar Creek School,the lecture is free and open to the public.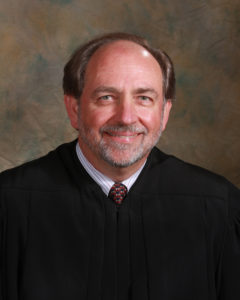 "Ethical leadership is the foundation for who we are and what we teach at Louisiana Tech. For that reason, the Marbury Ethics Lecture is an invaluable annual event for students and the community," said Dr. Chris Martin, dean of the College of Business. "I'm excited to welcome Judge Hicks to campus to share his insight and am grateful to the Nappers for their continued support of this lecture series."
Following unanimous confirmation by the Senate, Judge Hicks was sworn in as a United States District Judge for the Western District of Louisiana in Shreveport in 2003, and was named Chief Judge in 2017.
Before his appointment to the bench, Judge Hicks spent 26 years litigating in Louisiana state and federal courts, and was the founding member of Hicks, Hubley & Marcotte. From 1993-2017, Judge Hicks rose through the ranks of the Louisiana Supreme Court Committee on Bar Admissions, beginning as an assistant examiner for Federal Jurisdiction and Procedure, then moving to drafting the FJ&P component of the bar exam, and later serving as Director of Testing, Director of Accommodations and Chair of the Committee. 
He is a member of the Louisiana Law Institute and its Civil Law and Procedure Committee and organized the Federal Bar Association, North Louisiana Chapter in Shreveport. Judge Hicks is a past president of the District Judges Association of the 5th Circuit and served as a member of the Judicial Council of the 5th Circuit, the Financial Disclosure Committee, and the Budget Committee of the Judicial Conference of the United States. He was elected as the 5th Circuit's representative to the Judicial Conference of the United States, the national policy-making body of the federal judiciary. 
For more information on the Marbury Lecture Series, contact College of Business Senior Director of Development Mary Susan Britt at marysusan@latechalumni.org.