Students pitch Doggone Good Ideas in annual competition
Ten Louisiana Tech University students were selected to participate in the Innovation Enterprise's annual Doggone Good Idea event on Oct. 1.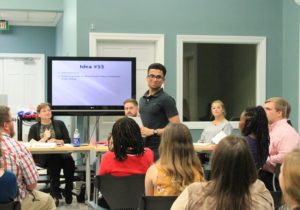 Each participant had one minute to pitch their innovative solution to a problem to a panel of judges including Dr. Don Shillinger, dean of the College of Education, Dr. Andrea Drake, professor and director of the School of Accountancy, and Evan Puckett, a previous winner and founder of Connect One. Cash prizes sponsored by D & H Wholesale Medical were given to the top two winners.
Robert Strange and his electroluminescent clothing took home the panelists' pick. Strange's inspiration for his clothing comes from the world of science-fiction, specifically the Tron franchise. "One is fashion and the other one is safety – it's fashionable safety. They will want to wear this. The idea is to trick somebody into being safe."
Henry Cottom also walked away with a $200 check after his idea for an automatic magazine loader won the Audience Choice Award.
"This is all going towards funding my project," Cottom said. "I built the first prototype; obviously it has its flaws and I've gotta build more. I intend to build more iterations of this for different guns, for different calibers. There's a whole host of ways I could take this, it's just about getting the funding and getting down to the nitty-gritty."
Strange and Cottom both plan to expand their new business ventures.
Other ideas included Natalie Wright's virtual reality real estate experience, Tyler Ross' temperature-controlled solar panel windows, Jackson Torrey's rivet gun for chain link fences, Brandon Vessel's shower fall detector, Andrew Bryant's smart, prescription-safe medicine cabinet, Hunter Verret's custom pin business, Hansel D'Cruz's device to reduce bedsores for wheelchair patients, and Christopher King's sweat patch that detects dehydration.
While votes were being tallied, Dr. Kirk St.Amant presented on how to successfully convey an idea. Participants and audience members had the opportunity to exchange ideas, make connections, and receive helpful advice following the event.
The Innovation Enterprise at Louisiana Tech University is a hotbed of ideas, entrepreneurship, creativity, and new partnerships created through collaborations involving students, faculty, and business partners.
The Center for Entrepreneurship and Information Technology (CEnIT) is a central component of the thriving innovation enterprise at Louisiana Tech. In addition to Doggone Good Idea, CEnIT also hosts the annual Top Dog Idea Pitch and the Top Dog New Venture Championship to encourage students to build innovative, creative products and services that create value in the marketplace.
For more information, visit latechinnovation.org.