Student entrepreneurs win $3,250 in Won in One idea pitch
Before a packed house in the University Hall auditorium, four Louisiana Tech student entrepreneurs won five awards and $3,250 in prize money in Louisiana Tech's recent Won in One idea pitch competition presented by the University's Technology Business Development Center (TBDC).
Winners of the Won in One pitch contest include (from left) Fatima Hussain, Antwine "AJ" McFarland, Chris Miller, and Christopher King.
At Won in One, innovators had 60 seconds to present their ideas in an attempt to impress a panel of judges and audience viewers. Annually, the event also provides an opportunity for aspiring entrepreneurs to make connections with other team members, investors, customers, and stakeholders.
Here are the 2020 winners:
First place and $1,000 to Antwine "AJ" McFarland for Organic Nano, an antimicrobial filament for 3D printing; such a filament would be used to 3D fabricate any biomedical device, or common-use item such as cutting boards, iPhone covers, and light switches.
Second place and $500 to Fatima Hussain for DuaSock, a medical wearable that can detect the onset of a foot ulcer.
Third place and $250 and People's Choice and $750 to Chris Miller for Hemosite Hemostatic Gauze, a metalized Halloysite nanotube used to enhance wound healing, prevent infection, and regenerate different tissues more efficiently.
Best Student Presentation, $750 to Christopher King for HydraGuard, a mouthpiece sensor that allows athletic trainers to monitor hydration levels of athletes in real-time; may apply to other activities in outdoor/extreme environments.
Both McFarland and Miller are Texas natives, research students, and doctoral candidates in Molecular Science and Nanotechnology (MSNT) in Tech's BioMorPH Lab, directed by professor Dr. David Mills.
"There are trends in higher education that point to closer links between business, especially entrepreneurship, technology transfer, and higher education," Mills said. "The conventional graduate education process provides students with narrow education and research experiences, producing students who do not have the range of skills needed to be successful in an interdisciplinary and global 21st-century workforce. All engineering and science graduates must be well-grounded in their home disciplines, but they must receive interdisciplinary education and research training. My mentoring philosophy and the philosophy prevalent at Tech encourages skill acquisition and experiences necessary to work in a diverse, globally engaged workforce, including adaptive communication skills, an understanding of ethics, real-world exposure, and entrepreneurship that aids my students in achieving their career goals.
"AJ and Chris have embraced this idea and are thriving through their creative efforts fostered by my lab and opportunities such as the Won in One Pitch competition provided by Louisiana Tech."
"The Won in One competition was an amazing experience," McFarland said. "The opportunity to get in front of a crowd of people, some of which are potential investors, and pitching something that you have been working on was motivating. I'm more motivated than ever to finish the development of this project and try to get it to market. For other entrepreneurs, I would say put yourself and product out there. You never know who is looking for a product that is similar to what you are working on."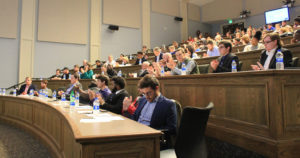 Of his winning pitch, McFarland, also involved with Tech's Powerlifting Tech, said that the technology to 3D print these devices does currently exist, "but it is not as antimicrobial as our filament. We aim to have our product used instead of the traditional plaster cast. In conjunction with another project that our lab is developing, we could use this product to aid in wound care."
Miller's crowd-pleasing multifunctional bandage aims to regenerate tissue, eliminate infection, and prevent pain and inflammation.
"We have a patented technology to add metal ions to the outside of nanoparticles called halloysites," said Miller, an active Ironman triathlete, former NAIA national soccer champ at Hastings College and Division I athlete at Robert Morris University. "We can vacuum load drugs in the halloysites and attach other biological molecules, like tripeptides, to the metal ions to speed up recovery and promote healthy tissue formation in severe trauma, burns, and diabetic wounds."
"Won in One was a valuable experience that will long live in my mind," said Miller, who has taught classes in Carson Taylor Hall, the same building where his late grandfather, Ellis Killgore, taught mechanical engineering courses years ago. "The chance to become something bigger than yourself is such a special feeling. This community and University has provided the platform for students to excel at the highest level. Tech has instilled in me a greater confidence and belief that I can change the world and truly make a difference."
For more information on the University's TBDC or Won in One, call 318.257.3537 or email tbdc@latech.edu.