MAcc student receives prestigious PCAOB scholarship
Suanne Hammons, a master of accountancy student in Louisiana Tech University's College of Business, was recently awarded a $10,000 scholarship by the Public Company Accounting Oversight Board (PCAOB) intended to encourage outstanding accounting students to pursue careers in audit.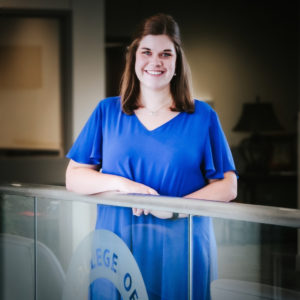 "Suanne's academic achievements make her an outstanding candidate for this scholarship award," said Dr. Chris Martin, dean of the College of Business. "We are grateful to the PCAOB for recognizing Suanne's accomplishments, and highlighting the success of the students in our School of Accountancy once again."
For the 2020-21 academic year, 234 students from U.S. colleges and universities were selected to receive the scholarship. This merit-based award is given to select students who exhibit excellence in an accounting degree program and have been nominated by a professor.
"It is an honor to be selected for this prestigious award, and I am thankful that organizations such as the PCAOB are willing to invest now in the lives of future accountants," said Hammons, who graduated with a bachelor's degree in accounting in Spring 2020 and is now pursuing a MAcc while working at Century Next Bank. A native of Choudrant, Hammons plans to pursue a career in audit after earning her masters.
"The College of Business has given me many opportunities to grow as a young professional," said Hammons. "I am so grateful to the professors for the abundance of time that they invest in their students to make sure that they achieve their highest goals. I have already begun to see much of what I have learned in the classroom at my current job, and I feel certain that the College of Business and its professors have prepared me for my future career."
For more information about the PCAOB scholarship, visit pcaobus.org.