Louisiana Tech Accounting Team Competes in Deloitte FanTAXtic Competition
Louisiana Tech University's School of Accountancy fielded a team of four to compete in Deloitte FanTAXtic, an annual case competition designed to familiarize students with the tax profession early in their academic careers.
Under the direction of Dr. Bob Cunningham, Executive-in-Residence for the College of Business, accounting majors Madison Carroll, John Halford, TaKyra Morgan, and Kelsie Perry competed in the virtual competition, gaining real-world business experience from a case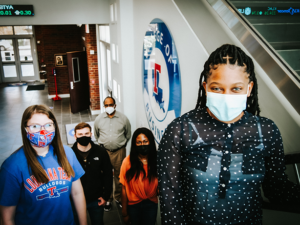 simulation.
"Despite the challenges this quarter with COVID-19 and virtual classes for some, we had several courageous students step forward to participate," said Dr. Cunningham. "I am proud of their effort. They are a very mature group and worked well together."
More than 250 students representing over 40 colleges and universities participated in the regional events held in November. For sophomore Kelsie Perry, participating in the competition was the boost of confidence she needed to end her quarter strong.
"I wanted to gain experience in what it would be like to do business with a real client," said Perry. "It was also a once-in-a-lifetime opportunity that I was honored to have. When I read the email saying that I was one of the few selected, it gave me encouragement. The competition was just the push that I needed."
Team members had the opportunity to solve a realistic business case, role play, and present their solution to Deloitte leaders, which helped them better understand the types of experiences and business challenges they can expect from a career in tax.
"I wanted to gain more experience and exposure in the tax realm, and I truly gained a lot of respect for tax," said Madison Carroll, a junior from Bentonville, Arkansas. "It was very interesting and fun to come together as a team to solve the complex case. I gained a better understanding of the world of tax and the complexity of forming/restructuring a business."
The four team members worked collaboratively to solve a complex reality-based business case simulation, then presented their findings virtually to the judging panel.
"The best thing I took away from this competition was the experience with personal client interaction," said John Halford, a sophomore from Whitehouse, Texas. "The process of crafting and presenting our pitch was very life-like in that it didn't feel like a typical class assignment, and the discussion with the acting owners was also a great learning experience."
Utilizing their foundational business and accounting skills, the students gained real world experience working together and with clients, and were able to develop connections with Deloitte tax leaders.
"I learned to rely on my teammates," said Perry. "Even though we had a shorter time frame to prepare than the other teams, we pushed and figured everything out together, each offering what we knew about taxes and accounting. It was a wonderful experience and if asked to do it again, I would proudly, without hesitation, say yes."
Sponsored by Deloitte Tax LLP and supported by the Deloitte Foundation, FanTAXtic has engaged more than 6,000 students since inception in 2002 and is designed to educate and prepare the next generation of tax talent for a career in business and tax.