College of Business Receives $150,000 gift from Cox Family
Judge Jeff, Susan, Gabrielle, and Stephen Cox, all of Bossier City, have made a $150,000 gift to benefit Louisiana Tech University's College of Business. Made to honor the legacy of Jeff's father, Orville "O.D." Cox, funds will support current and future programming within the College.
To further honor O.D., the atrium in the College's newest wing has been named the Cox Family Atrium.
"Hundreds of students will walk through the Cox Family Atrium each day, seeing O.D.'s inspirational story as they pass," said Dr. Chris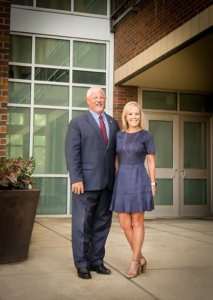 Martin, Dean of the College of Business. "I know that each person who reads about his life will be impacted. We are so very grateful to Jeff, Susan, Stephen and Gabrielle, who have chosen to honor their father and grandfather's memory by investing in the College of Business."
Born just before the start of the Great Depression, O.D. was always considered a strong-willed achiever. After marrying Dorothy Addison and working at an oil refinery in Cotton Valley, Louisiana, O.D. realized he wanted to further his education at Louisiana Tech in the College of Business. Unfortunately, based on his income and his duties of supporting a new family, he could not afford to attend college.
O.D. left Louisiana Tech and the oil refinery and began selling insurance. Eventually, he began buying cemeteries in Winnfield, Natchitoches, Jonesboro, Shreveport, and Bossier City, owned under the name of Affiliated Enterprises, Inc. of which O.D. was the President. The two main cemeteries were Centuries Memorial in Shreveport and HillCrest Memorial in Bossier City.
Always the achiever, O.D. began to expand the business in the Shreveport/Bossier City market at HillCrest and Centuries by divesting the company's interest in the Winnfield, Natchitoches, and Jonesboro cemeteries. He added a burial vault manufacturing plant, and later, funeral homes were added along with florists at both locations. He made all funeral and cemetery needs available in one location, saving families countless dollars and providing convenience.
O.D. believed in hard work and dedication, and that a man's word was his bond and a handshake was as good as a contract. He believed that God had provided his family multiple blessings, and worked to instill these beliefs in his family. His two sons, Philip and Jeff, joined the business, and Philip was named President of Affiliated Enterprises, Inc. when O.D. retired.
O.D. also believed in education. Although he was not able to attend college, he encouraged his son, Jeff, to attend. O.D.'s sacrifices to build a thriving business allowed Jeff to graduate from Louisiana Tech with a B.S. in finance. Additionally, his granddaughter, Gabrielle, graduated with a degree in history and his grandson, Stephen, graduated with a Masters in Business Administration—both from Tech.