Louisiana Tech sees 364 graduate in Winter Commencement
Louisiana Tech University welcomed 364 new graduates into the Tech Alumni Family in two separate ceremonies held today (Saturday, March 6) in the Thomas Assembly Center. This is the 335th commencement exercise held at Tech.
Each of today's ceremonies welcomed a different commencement speaker. In the 9 a.m. ceremony for the College of Business and the College of Liberal Arts, 1985 and 1986 graduate Bruce Singleton spoke.
Singleton encouraged graduates to celebrate a new beginning full of opportunity as they enter their lives beyond Louisiana Tech University.
"Have you considered what your future might hold?," Singleton said. "You are entering what will be the most fun, exciting, challenging, but fruitful years of your life. As you enter this next phase, everything is about to change."
Singleton reminded graduates that their character and ability to develop relationships with others would help determine their achievements later in life.
"Almost everything you build will be the result of relationships," Singleton said. "As you build relationships, opportunities will present themselves to you, and character building never ends."
After advising graduates to work constantly on building their character, Singleton related his belief that those endeavors would impact the world positively.
"We know that now, more than ever, we need to be better," Singleton said. "We need change. This is an opportunity to build character. How? We begin by treating others with respect and dignity. Be good and honest and true. Be fair, and seek to understand others.
"But above all else, be kind to everyone around you. These are small changes, but small changes are less risky. They are easier to execute; they're repeatable, and their impact accumulates over time."
Singleton concluded by asking graduates to remember to pursue great character in their future endeavors.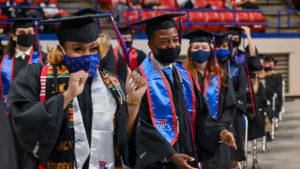 "Unleash your bulldog instincts. Take hold of your future, grab on, and clamp down on its britches. Hold on tight cause it will move fast, and when you feel that destiny is near, let go," Singleton said. "It's at that point that your future will come to you."
In the noon ceremony for the College of Applied and Natural Sciences, College of Education, and College of Engineering and Science, 1978 graduate Justin Hinckley spoke.
Hinckley proposed that – after the challenges this class had endured during their academic careers – another tenet should be added to Tech's Tenets, perseverance.
"While at Tech, your experiences have enabled you to become capable and resilient, while showing respect for others," Hinckley said. "Work and life experiences will be similar but different."
Hinckley also encouraged the new alumni to support and maintain the reputation of Louisiana Tech University in perpetuity.
"There's nothing more rewarding than seeing others benefit and flourish as a result of a contribution we've made," he said. "I challenge you to stay involved. If you want to be proud of your alma mater, your lifelong support is required and valued. You will also uphold Louisiana Tech's reputation by your lifelong commitment and execution of the Tech Tenets in your personal and professional lives."
Today's graduates join the more than 107,000 Louisiana Tech alumni worldwide.