Carroll reminds graduates of their 'extraordinary opportunity'
In her address to Louisiana Tech University's Summer 2021 graduates, India Carroll shared lessons "only life and experience can bring, things as old and as basic as time itself, but lessons important to learn for your happiness and success."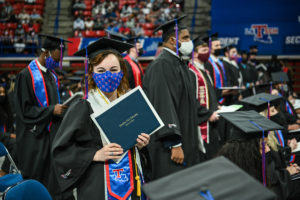 Carroll, who earned her bachelor's degree in 1981 and her MBA in Accounting in 1988, stressed to Tech's Summer 2021 graduates that they find their "passion and greatness."
"You rarely achieve greatness without passion," she said. "Never settle for mediocrity."
Carroll spoke after a brief welcome to the Thomas Assembly Center crowd by Tech President Dr. Les Guice, who then congratulated the graduates-to-be on this "significant and life-changing event" and praised them for "setting goals and working tirelessly to achieve them."
Carroll has spent her 33-year career in the healthcare industry. Since 2008 she has been Chief Executive Officer at Green Clinic, a multi-specialty physician clinic in Ruston. Under her guidance, Green Clinic has grown to more than 60 providers in seven locations and provides a full array of healthcare services to the residents of North Central Louisiana.
She is an avid supporter of Louisiana Tech and has served on numerous boards and committees. Carroll and her husband Danny have resided in Ruston for the past 43 years and are the proud parents of two children, Jennifer and Carter, a member of Tech's University Communications team.
"I am biased," Carroll said, "but this is the greatest University on the planet."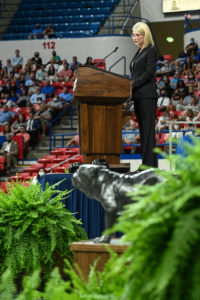 Carroll urged the new Tech graduates to develop the skills to build good relationships because "they are so critical in your career as well as in your personal life," she said. "Good relationships will play a major role in your success."
She also shared how she learned to deal with failure — "Don't run from it; don't blame it on others. Learn from it and get up and try again." — and the importance of finding the opportunities that come with change.
"In a moment you'll walk or dance or maybe cartwheel across the stage to receive your diploma," Carroll said. "What now? That's entirely up to you. You get to choose where you go from here. You get to choose the impact you will have on mankind.
"What an extraordinary opportunity," she said, "and you are ready. Congratulations to all of you, and Go 'Dogs."
This summer quarter, 300 graduates received degrees to join the more than 108,000 Tech alumni around the world.