Sustainable Supply Chain Management student learns to solve puzzles and lean processes
Jewel Theiler came to Louisiana Tech University with an attention to detail and a love for solving problems; both of these qualities are of use to her in her area of study. However, Theiler was not sure she chose the right major until she first got into her upper-level courses.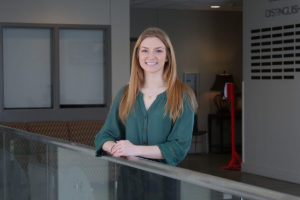 "When I came to Louisiana Tech as a freshman, I did not fully understand what sustainable supply chain management was and how many opportunities are available within that field," Theiler said. "To the naked eye, supply chain looks like a lot of big charts and numbers on a page."
Her sophomore year, Theiler took Dr. Tony Inman's Management 333 course and fell in love with supply chain management.
"Before college, I was never the person who enjoyed math, but I did enjoy puzzles," Theiler said. "That is why supply chain management interests me so much; it isn't just solving equations and spitting out numbers. You are constantly changing processes and trying new things."
Theiler is a senior in Sustainable Supply Chain Management. She's also a member of Alpha Chi Omega Sorority, the National Society of Leadership and Success, and the Supply Chain Club at Louisiana Tech.
This process of change and improvement is called leaning, a foundational idea of supply chain management in which waste is eliminated from processes in a way that benefits the consumer and the producer.
"Supply chain puts a focus on continuous improvement of operations," Theiler said. "We aren't just working to work, we are actively trying to improve a process."
This summer, Theiler has an internship with FedEx as a solutions analyst at their center in Memphis. There, she will gain experience in all areas of supply chain management.
Theiler said one of the ways she landed the internship was her knowledge of pivot tables, dashboards, and SQL languages … all things she learned in her CIS 405 class.
"I encourage all students to take classes outside of their curriculum that will benefit them in their area of study," Theiler said. "While CIS 405 was not required in my curriculum, I will be using what I learned in that course in my internship and in my professional career."
Another piece of advice Theiler gave is to "network, network, network!"
"Because of COVID, I am just now getting involved in the Supply Chain Management Club at Louisiana Tech," she said, "but I wish I would have gotten involved sooner!"
Networking extends past student peers for Theiler. She has also had the opportunity to create relationships with her professors, especially Dr. Kevin Watson who helped her seek an internship.
"One of my favorite parts of Louisiana Tech is the professors; they are invested in their students as individuals," Theiler said. "Our professors do not just flip through slideshows; they make sure we understand the information."
While Theiler does not know the exact area of supply chain management she hopes to work in, she is committed to solving puzzles and bettering business processes for both the producer and the consumer.
This story was written by Marketing student Sophie Edwards.