TOP DOG New Venture Championship winners for 2022 announced
A total of $12,000 in cash and prizes was awarded during the TOP DOG New Venture Championship at Louisiana Tech University. Awards were given to the top three finishers as well as for entrepreneurial spirit.
This past October, teams developed ideas and competed in the TOP DOG Idea Pitch. After the pitch, student teams had the option to continue with their ideas and build an investor deck to enter the preliminary round of the New Venture Championship. After the preliminary round, five multi-disciplinary teams advanced to compete in the TOP DOG New Venture Championship.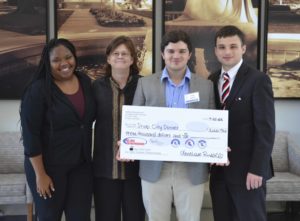 Team SNAP City Domes won first place and $3,000 with their approach to rapid-relief housing for disaster victims that provides safe and secure shelter while home repairs or home replacements are completed. Members of the team are Trey Achee, Management/Entrepreneurship; Lori Hawkins, Civil Engineering; Kyla Wilkens, Management/Entrepreneurship; and Bob Simmons, Mechanical Engineering.
Second place and $1,500 was awarded to Team My Why Apparel. The team's plan offers affordable high-quality streetwear which inspires wearers to find and then follow their life's purpose and aspirations. The team is led by Daquonte Bell, Biology.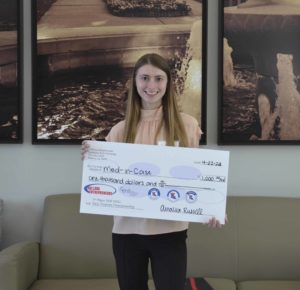 Med-In-Case was awarded third place and $1,000 with a pill case that detects if you have taken your medicine on time and reminds you to take it if you haven't. Amelia Boudreau, Biomedical Engineering student, made the pitch.
My Why Apparel also won the $2000 Jones Walker Entrepreneurial spirit Award.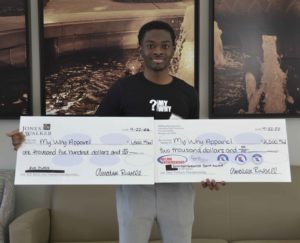 Judges for TOP DOG included  Brenda Brombacher of the McNair Center for Entrepreneurship and Free Enterprise at Houston Baptist University, Michael Leachman of the Jones Walker Law Firm, Keith O'Briant of LaCerta Life Sciences, and Miriam Russell of MEPOL.
Teams are scored on the quality of their new venture investment deck and the overall viability of their business concept. The TOP DOG was established in 2002 and is coordinated by Debbie Inman, Director of the Center for Entrepreneurship and Information Technology. Members of Bulldog Entrepreneurs, the student organization which empowers entrepreneurs and promotes innovation on the Louisiana Tech campus serve as facilitators for the event.
Supporting sponsors for the TOP DOG include Jones Walker Law Firm, the Louisiana Tech College of Business, Louisiana Tech College of Engineering and Science, the Center for Entrepreneurship and Information Technology (CEnIT), the Louisiana Tech Enterprise Center, the Innovation Enterprise Fund, and the Technology Business Development Center (TBDC).
Additional final round teams
Mr. Tsunami: A Roomba type device which attaches to a pressure washer to help homeowners and commercial cleaning companies wash parking lots, sidewalks, driveways. Team members are Zack Broussard, Electrical Engineering; Jacob Bridges, Management/Entrepreneurship; and Nolan Taylor, Mechanical Engineering.
Heal Your Sole: The product combats foot and ankle pain brought on by sports and physical movement. Team members are Anna Quinlan and Jackson Meyers, Management/Entrepreneurship; and Mike Marchman, Nanosystems Engineering.