McGaha Memorial Scholarship awarded to marketing student
Brode Paige, first-year Marketing student from Biloxi, Mississippi, received the Lane McGaha Memorial Scholarship June 15.
Lane McGaha's family awarded the first scholarship in 2021. The award is designed to honor the late coach of the University's Bass Fishing Team, a club sport organized through the Lambright Sports and Wellness Center, and it connects McGaha's family to the students on the team.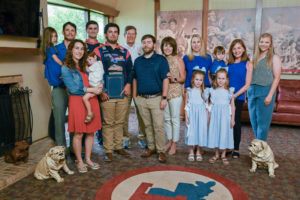 The scholarship provides support for a student on the Louisiana Tech Bass Fishing Team. The recipient must be a full-time student with at least a 2.5 GPA.
"Each year this scholarship is presented to the member of the Tech fishing team that best exemplifies the qualities that Lane instilled when he was coach: scholastics, moral fitness, commitment to the team, and fishing ability," said Fred McGaha, father of the late coach and current sponsor of the team. "Brodie has these qualities, and we are proud to honor him with this award."
"I love the fishing team," Paige said. "We are a good team that works hard to try our best to get fish in the boat."
Support for extracurricular and co-curricular activities is important, said Kane Allen, Associate Director of Recreation at Louisiana Tech.
"Financial support for our students involved in recreation is vital to keep our programs moving in the right direction," Allen said. "Participation in recreation increases both physical and mental health, and groups like the Bass Fishing Team provide a support network for many of our students."
McGaha earned his bachelor's degree in Sociology at Louisiana Tech in 2006.
To give to McGaha Scholarship Fund, go to latechalumni.org.