Accounting Team Advances to Nationals of Deloitte FanTAXtic Competition
Students in Louisiana Tech University's School of Accountancy are advancing to the Deloitte FanTAXtic National Competition, an annual case challenge designed to educate and prepare the next generation of tax talent for careers in business and tax.
Under the direction of Assistant Professor of Accounting Dr. Nina Collum, accounting majors Ashton Owens of Houston, Texas, Andrew Falcon of Mire, Tanecia Boone of El Dorado, Arkansas, Madeline Townsend of Hattiesburg, Mississippi, and Katelyn Victor of Winnfield competed in the virtual competition. The group was one of only 16 teams from the regional competition selected to move on to nationals taking place in January at Deloitte University in Westlake, Texas.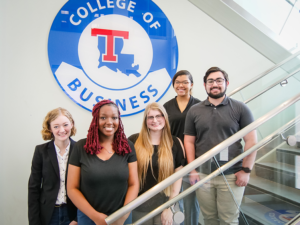 "Serving as team captain for the competition allowed me to learn more about areas of accounting and tax that I had not previously been exposed to," said Owens. "Going into the competition, I knew that it would be a challenge, but I did not realize the extent of how much I would learn. This experience has been an incredible learning and networking opportunity, and it's been rewarding to represent Louisiana Tech."
FanTAXtic's interactive program includes case simulation, role playing, and presentations that provide students with insights and perspectives on challenges facing the profession today, future trends that may impact it tomorrow, and the overall changing business tax marketplace. Deloitte Tax professionals participate in the event and offer students support and guidance throughout the competition.
Tech's five team members worked collaboratively to solve a complex reality-based business case simulation, then presented their findings virtually to the judging panel.
For Boone, interacting with advisors and judges from Deloitte's team was the most rewarding part.
"The people we came in contact with throughout the experience were always so kind and encouraging," said Boone. "Their guidance and encouragement helped relieve any fears and allowed us to put our best foot forward."
Owens agreed. "Being able to work so closely with Deloitte's tax professionals throughout the competition has been a great opportunity to network and learn from others who are experienced in tax and the world of public accounting."
While tax was the focus—concepts ranging from how C corporations and S corporations do taxes to various deductions—students gleaned much more from this experience.
"I learned just how effective communication is in a team," said Boone. "Working with four other college students who all have busy schedules was difficult, but with lots of communication and effort, we were able to accomplish our goals."
As an underclassman on the team, Victor acknowledged the competition was a challenge that allowed her to grow. "I always tend to play it safe, but now I know things like this can be done and it's given me more confidence in myself. The Deloitte judges really got into character which made presenting less scary. They also gave us good advice and words of encouragement which I am grateful for."
Regional FanTAXtic events occur annually across the U.S. Up to 16 regional teams are then selected to advance to the National Deloitte FanTAXtic competition which is held annually in January. These teams compete for more than $50,000 in individual awards and institutional awards provided by the Deloitte Foundation. Sponsored by Deloitte Tax LLP and supported by the Deloitte Foundation, FanTAXtic has engaged more than 6,000 students since inception in 2002.