First-Year Business Students Take Home Scholarship Awards in Annual Top Pup Pitch Competition
Team Curb the Carb took home the first-place prize in the 2023 Top Pup, an entrepreneurial pitch competition designed exclusively for first-year students in Louisiana Tech University's College of Business.
Providing early exposure to entrepreneurship and startup methodology, Top Pup teams develop and pitch their ideas, products, or businesses as part of the "Introduction to Business and Entrepreneurship" course. The winning team from each quarter then competes for the grand prize in the Spring. This year, the College of Business awarded more than $10,500 in scholarship funds to members of each winning team thanks to the generosity of Just Business Giving Society donors.
Winners Rex Bolls, Kylee Blackwood, Cam Hollis, Neal Lopez, Jake Patton, and Kaden West collaborated to create Curb the Carb, an on-the-go food service focused on providing healthy eating options.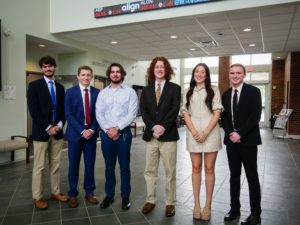 "We first came up with the idea of Curb the Carb when I mentioned the lack of food on campus that met the needs of students with health problems and/or special diets," said West, a Type 1 diabetic who found it difficult to find clean eating options on campus. "We wanted to not only give students more alternatives but also provide the best quality food to meet a variety of students' needs. We chose a food truck due to its versatility and the option to partner with the Tech campus to better serve college students."
The students developed a business plan, including a competitor analysis, financial projections, short- and long-term goals, and marketing strategies to pitch their innovative concept.
"Throughout this process, I've learned the importance of team work and working together," said Hollis. "I also learned how important every little detail is, as the details are what makes or breaks any plan. In the business world, thoroughness is king, and this was first-hand exposure to that. This competition gave us the experience of a lifetime, and the ability to create a real-world business with people I came to know and love. I'm forever thankful for Louisiana Tech and the College of Business for the opportunity."
The second-place team featured Lauren Parker, Abigail Presley, Isabel Black, Landon Crawford, Luke Corrent, and Gabe Lebretton. Their concept, Techsplore, is an interactive museum designed to highlight research taking place on the Tech campus.
"We were looking for a solution to capitalize on the influx of tourists coming through Ruston following the opening of the new Buc-ee's," said Parker. "That brought us to the need of connecting visitors with what we define as Ruston's greatest asset—Louisiana Tech! Through this project, we learned the importance of leaning on the wisdom available to us. People like President Les Guice showed us the possibilities of Techsplore beyond what we deemed possible on our own. We also learned how to work together and balance our strengths to achieve creativity and feasibility."
Team Footprint was awarded third place for their internet safety moderation tool. Created to aid parents, this digital intelligence program would allow users to monitor their digital footprint across social media platforms by providing real-time alerts on potential threats like cyberbullying. Veonce Fisher, Kristen Crump, Camron Flurry, and Alma Ramirez developed the concept as part of Team Footprint.
Each undergraduate student in the College of Business is required to take "Introduction to Business and Entrepreneurship," which serves as the foundation for all eight business majors. Through the course, students are introduced entrepreneurship, one of the College's core themes alongside innovation and technology.
"If I had to pass along some information to future competitors, I would say to start small, critique yourself until there's nothing left to critique, and to believe in yourself because anything is possible," said West. "We are extremely blessed to be a part of the College of Business and can't wait for our futures within Louisiana Tech University. This experience has been nothing but the best for us."