Moore siblings continue legacy of impact started by parents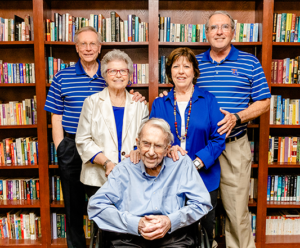 From a scholarship fund to endowed professorships, the Moore family's legacy and impact will be recognized in perpetuity at Louisiana Tech.
Siblings Gary Moore ('73, '74) and Lynn Moore Campbell ('75), along with their spouses, Karen Moore ('74) and Sidney Campbell ('75), came together to establish two endowed professorships—the Gary A. Moore Family Endowed Professorship in the College of Business and the Joy Lynn Moore and Sidney W. Campbell Professorship in the College of Education.
"The establishment of these endowments actually had their beginning in 1992 when our mother, Joy Festervan Moore, was diagnosed with a terminal illness," said Gary. "Our father, Andrew Moore, wanted to honor our mom—his wife and high school sweetheart—while she was still living."
The couple decided to create a fund that would be used to provide scholarships to college-bound students from their local church. The Joy Festervan Moore Scholarship Fund was created on December 31, 1992, and has grown over the years through its investments and additional contributions while serving its original purpose of supporting students.
As time passed, there became fewer and fewer college-bound students as their small church declined in membership. Gary and Lynn wanted to continue to build the legacy started by their parents, and honor the other Louisiana Tech graduates in their family, including Lynn and Sidney's daughters, Kara and Melissa.
"It became clear that giving additional funds and qualifying for matching funds through the Board of Regents was the best way to continue and expand what was started so many years ago," said Gary. "We are grateful for the legacy of generosity we inherited from our parents, and are grateful for the opportunity to give back to Louisiana Tech."
With a guiding principal of creating scholarship and advancing research and innovation, Tech 2030 places a strategic focus on the success of faculty. Through the generosity of the Moores and Campbells, business and education faculty will have enhanced resources, allowing them to continue to be impactful researchers and teachers.
"We are honored that the Moores and Campbells choose to support our College and the success of our outstanding faculty members through their gift," said Dr. Chris Martin, dean of the College of Business. "Through their desire to honor their parents, faculty within the College of Business will have access to critical funds that allow them to make any even larger impact on their field of research and our students' learning outcomes."
Alumni and friends can take advantage of state matching funds and assist Tech in meeting a critical need—attracting and retaining outstanding faculty. The income from the endowed professorships is used to supplement faculty salaries and to provide faculty support, such as equipment and supplies needed for research.
"We are incredibly grateful to the Moore and Campbell families for their gift to the College of Education through an Endowed Professorship," said Dr. Don Schillinger, former dean of the College of Education. "This gift elevates the prominence of the College and provides support to our faculty members and college leadership. Professorships help faculty promote and invest in their research activities and support students in a powerful way."