Noah Hayes, '05
Co-Founder, Radius
Noah Hayes, 2005 marketing graduate and co-founder of a Silicon Valley-based technology company, Radius, was instrumental in transforming the company from three guys in an apartment to 150 employees, with hundreds of millions of dollars in revenue in just seven years. He sat down with the College of Business to chat about his current duties, his company and how his experience at the College of Business prepared him for this venture.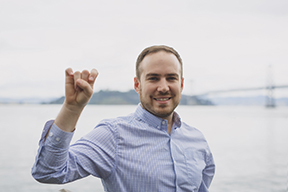 Where are you currently working? What is your title?
I work at Radius, a marketing technology company in Silicon Valley. Radius software helps companies like American Express, Bank of America, and Walmart predict who their best B2B customers will be. We're venture funded and have over 150 employees. I'm the co-founder of the company and currently run the product and design organization as a Senior Vice President.
What are your job responsibilities/duties?
As a founder of the company, my responsibilities are pretty broad. However, as the product and design leader, I spend most of my time talking with customers, brainstorming new ideas, collaborating with engineers, and leading projects to help improve the Radius product.
What does a typical day look like?
A typical day depends on the day! Mondays are all about getting ready for the week. This includes meeting with team leads and the executive staff. Wednesdays I focus on personal check-ins with direct reports. On Fridays we have our all-hands meeting to review company-wide objectives. The time in between is always taken up by conversations with customers and other key stakeholders.
What do you most enjoy about your job?
I'm privileged to work with incredibly smart and talented people. The Radius team is outstanding. Our team includes everyone from PhDs in String Theory to former executives at Yahoo, Paypal, Salesforce, Microsoft, and more. Getting to interact and learn from these people each day makes my job amazing!
What is the most difficult aspect of the job?
As companies grow, they change. Radius is very different than it was seven years ago when it was just three guys in an apartment. Adapting and adjusting to a larger company culture is difficult at times but also rewarding.
What on-campus activities were you involved with? Where did you gain relevant experience?
My on-campus life hinged on the Center for Entrepreneurship and Information Technology (CEnIT) program. While at the CEnIT, I was encouraged to pursue out-of-class activities with fellow students. Working on my own projects was critical to gaining real-world, relevant experience. In addition, participating in the annual Top Dawg Business Plan competition helped prepare me for the competitive life of high-tech startups.
How did your experience at Tech and the College of Business prepare you for your professional life? For this specific position?
The College of Business does a fantastic job of connecting students with other departments. I took several classes in the entrepreneurship and graphic design programs where I got to see—first hand—the intersection between business, technology, and the arts. The most successful entrepreneurs are the ones that know how these three disciplines all fit together.
What advice do you have for students interested in this field?
Get your hands dirty and go to where the action is. If you're interested in technology, try starting your own company or get connected with people that are. Get to know your peers in College of Engineering and Science. If you end up working in technology, you'll need to speak their language. Take your liberal arts classes seriously. Learning how to communicate in business starts with a solid foundation in the arts.
What is one thing that you know now that you wish you had known when you started in the field? When you graduated from the College?
Although technical know-how and determination are important in business, it's the soft skills that will get you the furthest.