Faculty Feature: Dr. Julie Moulard
When she joined the faculty at Louisiana Tech University more than seven years ago, Dr. Julie Moulard knew she would have the chance to impact students at each level of higher education. It was the opportunity to teach and mentor doctoral students, though, that appealed to her most.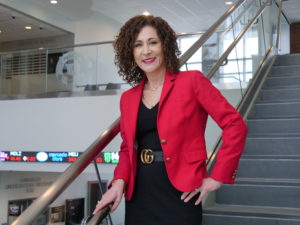 "While nearly all business schools have undergraduate programs and most have an MBA program, relatively few have doctoral programs," said Moulard, who is currently supervising her first two dissertations. "It's very gratifying to have such a huge positive impact on someone's life and career. I expect to be life-long colleagues and friends with all of our doctoral students and routinely reunite with former students at conferences."
The Associate Professor of Marketing and Balsley-Whitmore Endowed Professor also makes an enormous impact on students through her coordination of "Bulldogs in Paris," the College of Business' study abroad program. She considers watching students mature during the eight-day excursion some of her most memorable moments.
"The students quickly realize that the way something is done in the U.S. is not the only way—and sometimes not the best way! They better appreciate others' differences and, thus, become more humble and empathetic," she said. "More importantly, students gain tremendous confidence and a strong sense of independence. Navigating another culture can be really intimidating—new place, new language, new food, etc. The realization that you not only can get by—but also can thrive—is enlightening. Their new-found confidence and independence often drive students to seek out opportunities they would have never considered possible."
Dr. Moulard, along with Professor of Marketing and Department Chair Dr. Barry Babin, take students to visit businesses in Paris and Reims — locations like Pommery Champagne House and Lesage, an embroidery company that is a supplier for luxury brands like Chanel. Students also attend lectures at IÉSEG School of Management and take several pre-trip classes to prepare and learn international business concepts and trends.
Back stateside, Dr. Moulard conducts research focusing on the authenticity of products and brands.
"The notion of 'being authentic' is a hot catchphrase in business," she said. "Most people have general notions about what it means, but no one has really been able to pin it down."
Dr. Moulard suggests there are three types of authenticity, noting each is important for increasing consumers' perceptions of quality, satisfaction, and trust in the brand.
"True-to-fact authenticity is about being honest and transparent versus deceitful," she said. "True-to-ideal authenticity is about being consistent — like a brand sticking to the same recipe, design, or product category. True-to-self is my favorite of the three and the one I research the most. It's about being passionate about what you do versus doing something for the money or prestige. Brands that are true-to-self authentic are run by people that are committed and devoted; they don't 'sell out.'"
Her research has been published in numerous academic journals including the Journal of Business Research, Psychology, & Marketing, the International Journal of Advertising, the Journal of Marketing Education, and the Journal of the Academy of Marketing Science.
The latter — which was recently ranked the No. 1 academic journal in marketing — is published by the Academy of Marketing Science, one of the top organizations for marketing academics. In June, Moulard began a two-year term as president-elect of this prestigious organization. In addition to publishing JAMS and AMS Review, the Academy hosts two conferences per year — one in North America and one internationally.
"Prior to serving as president-elect, I was vice president for programs for four years," said Dr. Moulard. "That position entailed overseeing the AMS North American conferences and was extremely demanding. I am happy I've moved on to a less-demanding position! I am also very grateful and blessed that my colleagues have entrusted me to lead the organization as it celebrates its 50th anniversary in 2021."
Her leadership among the best in the field also allows for a spotlight to shine on Tech's marketing program. With an undergraduate degree, MBA and Doctor of Business Administration, the College works to influence the world of marketing in a significant way by producing well-prepared graduates.
"Our marketing analytics concentration is really unique, and graduates with a marketing analytics focus will be in high demand," said Dr. Moulard. "So much data is being collected about consumers through their activity on the internet and through smart devices like phones and fitness trackers. Marketers can use this data to customize products, improve consumers' experiences, and tailor promotions."
From Ruston to Paris and the world over, Dr. Moulard's focus on authenticity — in her research, in her leadership, in her teaching — impacts the field and beyond, just as she impacts her students each day.
Learn More About Marketing