Week of activities helps Business students move toward career success
Louisiana Tech University's College of Business recently hosted a week of activities designed to help students find academic and future career success.
Career and Student Success Week was dedicated to putting students' book smarts to the test and developing skills a textbook cannot teach: the art of networking, building a marketable resume, and stepping out of their comfort zones.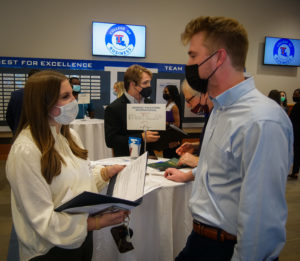 With more than 15 events over the span of one week, College of Business students took part in workshops, panels, and lectures, each offering unique learning experiences and networking opportunities. With the help of faculty and staff who make resources like these panels and receptions available and convenient, Louisiana Tech students enter the workforce educated, equipped, and experienced.
Enterprise Products, the leading supplier of midstream energy in North America, has attended the College of Business Career and Student Success Week as a recruiter for years.
"Louisiana Tech graduates exemplify just what Enterprise is looking for in future employees: a strong work ethic, high GPA, and personal standards that overlap with our company values — one of which is integrity, one of Tech's 12 Tenets," said Roy Monarch, the director of Internal Control Compliance for Enterprise Products. "Our team strives to find high quality students and place those students in useful, innovative roles that are beneficial to them and our company."
The Employer Reception allows recruiters like Monarch to have honest, thoughtful conversations with students and form connections that will last beyond their years in college.
To ensure their students are successful, the College encourages students to use a mobile app to show their engagement in events such as Career and Student Success Week. The app Suitable gives incentive for students to earn points through attendance at events and involvement.
Graduate Hampton Roane participated in these events when he was a student at Louisiana Tech, and he now serves as a recruiter for Silas Simmons Accounting Firm.
"Looking back, I wish I would have gotten involved in College of Business events sooner because of the skills and connections they develop," Roane said. "Now, as a recruiter, I know that the sooner a student leaves their comfort zone, the better. Where better to step into these unknowns than an event like this one?"
The search for employment can be overwhelming and discouraging, student Joey Torres said.
"But in a setting like this Employer Reception, students can have a peace of mind knowing the employers present want to get to know and hire students like them," Torres said. "This concept has allowed me to focus more on creating lasting relationships with employers and cultivating skills I cannot show on a test."
This story was written by Marketing student Sophie Edwards.