Alumni Feature: Clay Baum
Louisiana Tech's reputation initially brought Clay Baum to the University. The opportunity to learn more about an area that interested him from a very early age brought him to the College of Business as a computer information systems major.
"Louisiana Tech has had a reputation long before I attended of being a premier college with a lot of opportunities, and I had the privilege of being in the company of a lot of Tech alumni who I greatly respected," said Baum. "Technology has been a big part of my life since I was 5. Tech provided a great opportunity for me to bridge the gap with my technical background to a business setting which has greatly benefited my professional career."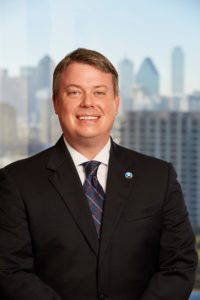 Today, his professional journey has led him to the role of information security officer with Origin Bank in Dallas, Texas, where he oversees the day-to-day cyber security operations and strategic planning for the bank's information security. He also leads the bank's regulation and examination efforts in the information system and cyber security departments, a role he took on following Origin's transition to the Federal Reserve Bank.
It was his courses in computer information systems that prepared him for this challenging role.
"Team skills were probably my most valued skill that I learned from my CIS courses," said Baum. "Multi-faceted projects with several moving parts accurately depicted the situations I still find myself in today. They really exposed my strengths and weaknesses which I was able to adjust before I hit my professional career."
Though demanding, his capstone with Debra Blackman was the course he considers most rewarding, noting he was taught much more than information systems and learned to be a better team member and problem solver.  
Baum encourages current CIS students to reach out to alumni with similar interests as they begin to think about their future plans. "Tech alumni typically find themselves with great careers and they are eager to hire fellow graduates," said Baum, who believes English courses, speech classes, and networking are all paramount to the process. "Start building your connections with people in information systems and business now. Communication is key to building that network."
His own network is made stronger by his ties back to the place it all began.
"I'm lucky enough that my professional career has a healthy involvement of Tech that comes with it. Tech is a great place that has always called my friends and I back to her. I don't miss an opportunity to give back to the University that gave me so much."