COLLEGE OF BUSINESS ADMISSIONS
Undergraduate Admissions
Join a powerful network of friends, mentors, and career connections that will lay the foundation for your future success as a business leader.  Interested in receiving more information about how a degree from the College of Business will set you apart? Request more information by filling out this form. First-year student admission to any major within the College of Business is overseen by the Louisiana Tech University Office of Undergraduate Admissions and all majors must apply through our admissions office. There is no secondary application process for the College of Business.
Prospective Students
If you are interested in learning more about what we have to offer at the College of Business, we would love to meet you. Come tour our state-of-the-art facility and meet with an admissions specialist to learn how the College can help you meet your educational and professional goals. Visit Campus! 
Already know you're meant to be a Bulldog? Apply Now!
For more information on undergraduate admissions or to schedule your campus tour, contact: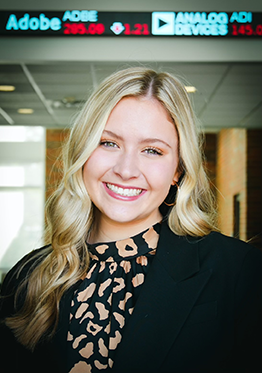 Sadie Young
Admissions Specialist
College of Business
Louisiana Tech University
Office: 318.257.2529
Text: 318.314.3641
Email: sadiey@latech.edu
The College of Business now offers a GMAT waiver for applicants to the Master of Business Administration (MBA) and Master of Accountancy (MAcc) programs! 
Applicants should have a minimum undergraduate GPA of 3.2 to take advantage of the waiver. If you do not meet this requirement, we encourage you to take the GMAT or consider entering the MBA program through the Graduate Certificate in Business Administration. 
Graduate Admissions
How Do I Apply?
All graduate applicants must:
Complete the Application for Admission and return with the appropriate application fee.
Submit official transcripts of all prior college work demonstrating sufficient scholastic performance that qualifies the applicant to perform successfully in a master's or doctoral program. (For doctoral admission, more emphasis is placed on an applicant's graduate record than on the applicant's undergraduate record. Please click here for specific requirements related to the doctoral program.)
Submit a satisfactory current score on the Graduate Management Admission Test (GMAT) from within the last five years and meet established GPA requirements:

GPA greater than or equal to 2.75
GMAT greater than or equal to 450
Composite Index (GPA x 200 + GMAT) greater than or equal to 1,100
Applicants must meet the admission requirements of both the Graduate School of the University and those of the Graduate Division of the College of Business. Any applicant who holds a bachelor's degree, or equivalent, from an accredited college or university, will be considered for admission regardless of the undergraduate field of study.
Students at all levels must complete basic courses in the "common body of knowledge" or business core. Foundation courses may be waived for students who have completed equivalent courses prior to admission to the MAcc or MBA programs. Admission will be granted only to those individuals who demonstrate significant accomplishment and high potential for success.
Transfer Students
At the College of Business at Louisiana Tech University, you are not just a "transfer student," you're part of the Bulldog family. We welcome the rich diversity, experiences and perspectives that our transfer students—and all our students—bring to campus. You will quickly become a part of the rich fabric that is the student family of the College of Business. Welcome home.
Transfer Application Process
Students wishing to apply for transfer student admission as a business major need to apply through the Louisiana Tech University Office of Admissions and submit transcripts from current or previous institutions.
Determining What Courses Transfer
You're probably interested in finding out exactly which courses you will be able to transfer into the University and which ones may need to be completed again. For information on the process of transferring, admissions requirements and credit equivalencies, visit our Admissions page.
2+2 "Pathway to Tech" Program in CIS
Are you a working professional with 60 hours of college credit and are looking to advance your career with a bachelor of science degree in computer information systems? Begin your work now through the College of Business at Louisiana Tech University. Classes will take place both online and face-to-face in the evenings at Louisiana Tech's Academic Success Center located in the National Cyber Research Park in Bossier City, La. This undergraduate degree program is specifically designed for place-bound students living and working in Bossier/Shreveport and unable to make the one-hour drive to Ruston to complete their degree. Click here for more information including an outline of recommended upper-level courses.
Seamless Transfer for BPCC Graduates
Through a Memorandum of Understanding, students who have obtained an associate of applied science from Bossier Parish Community College can seamlessly transfer to the Louisiana Tech CIS program. The agreement, signed in March 2017, ensures each institution serves the needs of students by providing appropriate and accurate transfer and advising information. Click here for more information including an outline for course alignment. Click here for BPCC's site.
Visit Us
We know the decision of where to attend college is one of the most important you'll make. At the end of the day, it is more than just test scores, majors and extracurricular activities—this will be your home for the next few years. One of the best ways to find out if Louisiana Tech is the right fit for you is to see and feel out the campus in person. Special personalized campus visits are available for prospective transfer students on Monday afternoons and Thursday mornings. Visit Campus!
Questions along the way? We're here to help.
Sam Hansen
Transfer Coordinator
318.257.3036
shansen@latech.edu
Sadie Young
Admission Specialist: College of Business
318.257.2529
sadiey@latech.edu