Centers, Playgrounds & Partnerships
At the College of Business, we understand that learning doesn't just take place in the classroom. That's why we're proud to offer our students access to innovative centers and creative academic playgrounds, in addition to hands-on internship and job experiences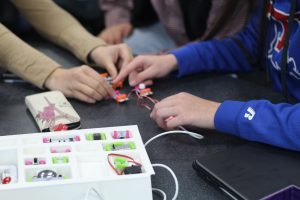 provided by our corporate partners.
Our Center of Entrepreneurship and Information Technology (CEnIT) supports students from all majors as they create and pitch business plans and innovative product ideas. The Center of Information Assurance, the College's hub for linking cyber to the business world, also serves as our national center of research and academic excellence.
Powered by our corporate partner, General Dynamics Information Technology, TechX provides a playground for students who are as passionate about business and technology as we are. The equally innovative Thingery provides a workspace where entrepreneurially minded students can design, build, and test new prototypes.
We partner with some of the best national and global companies to offer internships, mentorships and career opportunities, as well as some of the nation's most recognized business programs to provide our students with exclusive opportunities. And, unique to Tech, students can intern right next door at Tech Pointe with corporate partners like General Dynamics Information Technology, CenturyLink, Pierry Inc., and Fenway.