Academy of Marketing Science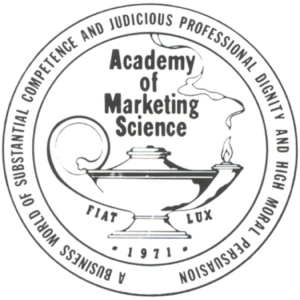 Dedicated to the high-level creation of and distribution of marketing knowledge, the College of Business is proud to house this international, scholarly and professional organization. Every year, the Academy of Marketing Science holds a series of conferences and special interest programs and symposia, a refereed scholarly journal, a quarterly member newsletter, and conference proceedings. It offers numerous programs to sponsor future scholars and encourage "thought leadership" in marketing research. The Academy also publishes the Journal of the Academy of Marketing Science (JAMS), which is recognized as one of the top 10 most cited academic journals in all of business.
Mission
The Academy of Marketing Science is dedicated to promoting high standards and excellence in the creation and dissemination of marketing knowledge and the furtherance of marketing practice through a role of leadership within the discipline of marketing around the world. The Academy is committed to the highest of ethical standards and collegiality in the pursuit of this mission.
History
The Academy of Marketing Science was founded in 1971 at C. W. Post Center of Long Island University. Under the direction of founder Dr. Berkman, the Academy quickly grew to hold significant regional association. Dr. Berkman went on to established the Journal of the Academy of Marketing Science (JAMS) in 1972. For his services, he is recognized with the title of Distinguished Professor of the Academy of Marketing Science. Today, JAMS is widely acknowledged as a premier marketing research journal and recognized as one of the top business academic journals. Members receive JAMS free of charge.
As the Academy expanded nationally in both scope and recognition, it became evident that more structure was needed. Consequently, in 1979 the Academy was reorganized with a new Constitution and Articles of Association and Bylaws. The Academy currently has elected officers and a Board of Governors, with elections held on a biennial basis. Each year, hundreds of delegates attend a research conference hosted by the Academy. The first annual conference took place in Akron, Ohio. Subsequent annual conferences have been held in every corner of the USA and in Montreal and Vancouver. Biennial world marketing congresses (The AMS World Marketing Congress) have been held in such diverse locations as Italy, Australia, Malaysia, and Turkey. The Academy also hosts the Cultural Perspectives in Marketing (CPM). The CPM also has been held in diverse settings including New Orleans, La; Seoul, South Korea; Puebla, Mexico; Valencia, Spain; Hong Kong, Montreal; and Long Beach, Miss.
Learn more about the Academy of Marketing Science.
Contact
Academy of Marketing Science
c/o Louisiana Tech University
P.O. Box 3072
Ruston, LA 71272
Phone: 318.257.2612
Email: ams@latech.edu