Career Planning and Professional Development
Career Planning and Placement Office
The Career Planning and Placement Office, housed in Louisiana Tech University's College of Business, provides comprehensive services and customized support for all College of Business students and employers.
We seek to educate, advise and prepare our students in every capacity possible to ensure successful entry into the job market. We are dedicated to cultivating relationships with employers and creating connections with them to benefit our students and alumni. Through customized support and professional and career development initiatives—our internship program, skill development workshops, networking events and distinguished speakers—we set up our students to be well-positioned for success in their post-graduation endeavors.
Co-Curricular Programs
A central component of the College of Business, co-curricular programs provide students with opportunities to expand their knowledge outside of the classroom and enhance their overall educational experience. These programs strive to stimulate insightful conversation on current issues by providing a platform for high-level executives and corporate leaders to speak about cutting-edge topics and trends, share insight on prevalent issues in society and the business world, and share wisdom and provide important career inspiration, insight and advice for our students.
Many topics strike core themes in the business world such as economic climate, ethics, corporate responsibility, leadership, entrepreneurship, innovation and diversity. Some of our most popular programs have included the Global Lecture Series, Innovation and Entrepreneurship Series, Marbury Ethics Lecture, Inside the C-Suite Executive Speaker Series, and Sustainability Lecture.
To view upcoming events, click here.
"A clear understanding of the global context of today's business environment is critical to the success of any business graduate. Our Global Lecture Series offers an opportunity for top business leaders to discuss their personal views on the challenges inherent in leading multinational organizations and enacting change in an increasingly interconnected world."
-Dean Chris Martin
Professional Development
Professional Development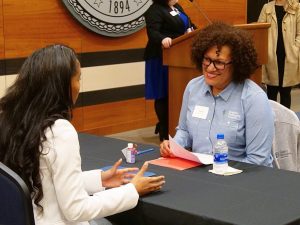 To help meet the challenge of the increasingly competitive business environment and job market, the College of Business hosts professional development events to round out students' business knowledge and develop personal and professional skills for success. These workshops prepare students by providing guidance on various topics such as career planning, interviewing, resume preparation, professional dress, dining etiquette, employment search techniques and networking. Corporate recruiters, alumni, and other professionals from the community conduct many of these seminars.
Some of our past events have included Speed Interviewing Workshop, Career Week and Etiquette Dinners. To view upcoming events, please click here.
In addition to professional development events hosted by the College of Business, the Career Center hosts seminars on a variety of topics each quarter. Please click here for the seminar schedule.
"Speed networking was an incredible event where I received feedback about my interviewing strengths and weaknesses, while simultaneously having the opportunity to network with employers in the area. It made me increasingly proud to be a part of the College of Business and Louisiana Tech University."
-Katherine Morris, College of Business Student
Career Day
The Louisiana Tech University Career Center holds multiple recruiting events during the year including Fall and Spring Career Days. The Career Center hosts employers from various local, national and international companies to recruit interns and employees while forming strong ties with the College. Registration through Handshake is required before the date of the event and details can be found online on the Career Center website.
Recruiting Events
The College hosts recruiting events exclusively for business students twice per year during the fall and spring quarters. The College of Business Employer Reception and Accounting Employer Informational are opportunities for our business students to learn about internship and career opportunities while allowing potential employers to meet students who are either in the market for jobs or internships or will be entering the job market in the future For more information or to register, please contact Kyle O'Neal at koneal@latech.edu.
Information Sessions and Classroom Visits
The Career Planning and Placement Office offers other services to connect employers with College of Business students including arranging classroom visits with relevant student populations and offering employer information sessions. Employer Information Sessions provide an opportunity for employers who are actively hiring to share details about full-time, part-time, and internship opportunities. Held on campus, most info sessions are brief and provide information on current and upcoming job openings as well as tips on how to obtain a job within the company and ample opportunity for students to ask questions.
Post Jobs and Internships on Handshake
Handshake is the Louisiana Tech University Career Center's new online job board and web-based recruiting system. With Handshake you can post various job opportunities (both full-time roles and student internships), evaluate applicant materials electronically, and set up on-campus interview dates in collaboration with the Career Center. Employers can click here to join Handshake.
On-Campus Interviews
Recruiting through on-campus interviews is an excellent way to connect with talented students and enhance your organization's on-campus brand. The majority of on-campus interviews will be held in the Career Center's professional interview suites and the selection and scheduling process will take place using Handshake. To discuss the on-campus interview process and to schedule your visit, contact Kyle O'Neal at koneal@latech.edu
Internships
Bringing an intern in to your organization can be a very rewarding experience. At Louisiana Tech University's College of Business, we have hundreds of talented and energetic professionals eager for an opportunity to learn in the real-world classroom. For information on why you should participate, what's expected of your company, and how to advertise a position, visit our Internships page.