Due to the COVID-19 pandemic, TechX and The Thingery are currently closed.
TechX: Our Technology Playground

Do you have a passion for all things high-tech? Are you looking to take a deep dive into the "Internet of Things" (IoT) or technology? Does the thought of learning system programming on Ubuntu or developing a new application get you excited? Then TechX is for you. Located next door to the College of Business at Tech Pointe, TechX provides both a physical and virtual playground in which our students gain the access to cutting-edge technology and the minds of companies at the forefront of the high-tech realm: General Dynamics Information Technology (a next-generation IT and technology solutions company and our corporate partner), subject matter experts and alliance partners.
At TechX, students have their own high-tech "sandbox" to play in and apply what they've learned in their Computer Information Systems (CIS) classes. Play with the latest and greatest hardware and software, learn a new skill on your own or just hang out with like-minded individuals who are just as passionate about business and technology as you are. Visit us today, all levels of experience are welcomed.
Thingery: Entrepreneurship Playground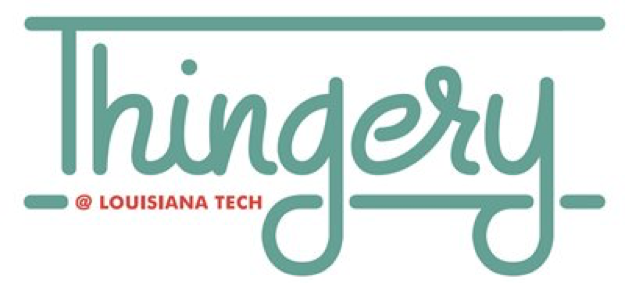 Do you have a product idea? Curious what it takes to build a prototype? Interested in the latest in product design technology and machinery? Then the Thingery should be your first stop on campus, just visit the first floor of University Hall. Here, students can design, build and test new product prototypes and get away from the one-dimensional confinement of just producing ideas on a drawing board. Participate in product design and development activities, play with state-of-the-art equipment and have access to all the tools needed for short run and boutique manufacturing equipment in our shop, studio and digital design lab. The Thingery is Louisiana Tech's playground for our entrepreneurship-minded business students but is also available to any budding entrepreneurs. Come check us out.
For more information, please visit our Innovation page and watch this video.